Falência do Estado-Nação e a Necessidade de Estados Transnacionais. Reflexões a partir de Ulrich Beck
Failure of Nation-State and the need for Transnational States. Reflections from Ulrich Beck
José Vilema Paulo

Ph.D. student in Political-Legal Theory and International Relations atUniversity of Évora. Researcher of the Research Center in Political Science (CICP).
Keywords:
Nation-State, Globalization, Transnational States, Methodological Nationalism
Abstract
The concept of State is increasingly complex, especially in present times. The classic definition of State designates two dimensions, on the one hand, it presupposes a special form of society, that is, it calls a particular organ of society: the government, the subjects of the government, a nation or a territory they inhabit. On the other hand, the concept of State falls on the legal perspective and, in this sense, is understood as a legal phenomenon, a legal entity, as a corporation. Both sociological and legal dimensions constitute methodological nationalism, which defines the State formed by its own sovereignty, territory and population. Nonetheless, as a result of globalization, Nation-States have unintentionally transferred particles of their sovereignty to multinational corporations, opening the door to the birth of a "State-without-State" in which Nation-States are now overwhelmed. In this context, it is proposed in this paper to present the different theoretical conceptions of the State as well as the proposal of transnationalization of the States as thought by Ulrich Beck. Beck argues that transnational States differ from the concept of Nation-State in that they are not bound to delimited territories, but are based on convention between member States. Transnational States have acted as cooperative States for the purpose of strengthening domestic and foreign policy, not submitting to the pressures that (transnational) companies place on States.
Resumo
O conceito de Estado está cada vez mais complexo, principalmente nos tempos atuais. A definição clássica de Estado designa duas dimensões, por um lado, pressupõe uma forma especial de sociedade, ou seja, denomina um órgão particular da sociedade: o governo, os sujeitos do governo, uma nação ou um território que eles habitam. Por outro lado, o conceito de Estado recai sobre a perspetiva jurídica e, neste sentido, entende-se como fenómeno jurídico, pessoa jurídica, como corporação. Ambas as dimensões, sociológica e jurídica, constituem o nacionalismo metodológico, que define o Estado formado por uma soberania, território e população própria. Não obstante, em consequência da globalização, os Estados-nação transferiram partículas da sua soberania às empresas multinacionais, de maneira involuntária, abrindo espaços ao nascimento de um  "Estado-se-Estado" no qual os Estados-nação atualmente se encontram subjugados. Neste contexto, propõe-se neste trabalho apresentar as diferentes conceções teóricas do Estado bem como a proposta de transnacionalização dos Estados na forma como foi pensada por Ulrich Beck. Beck sustenta que os Estados transnacionais distanciam-se do conceito de Estado-nação, pois não se vinculam a territórios delimitados, contudo têm como fundamento a convenção entre os Estados membros. Os Estados Transnacionais agiram como Estados cooperativos com a finalidade de reforçar a política interna e externa, não se submetendo às pressões que as empresas (transnacionais) efetuam sobre os Estados.
Downloads
Download data is not yet available.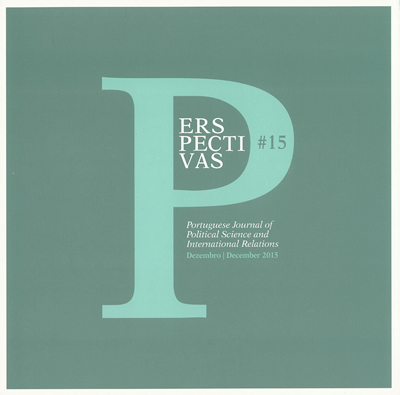 How to Cite
Paulo, J. (2015). Falência do Estado-Nação e a Necessidade de Estados Transnacionais. Reflexões a partir de Ulrich Beck. Perspectivas - Journal of Political Science, 15, 55-73. https://doi.org/10.21814/perspectivas.76
Copyright (c) 2016 Perspectivas - Journal of Political Science
This work is licensed under a Creative Commons Attribution-NonCommercial 4.0 International License.
Authors must be sure that they have permission to reproduce copyright material, prior to submitting their articles to this Journal.
Authors must secure permission if they have permission to reproduce figures, tables, or any extract from the text of another source. This applies to direct reproduction as well as to any derivative reproduction.
In assigning copyright, authors retain their right to use their own material elsewhere, provided that the Journal is acknowledged as the original place of publication, and the Editorial Team is notified in writing in advance.
Further information on copyright policy please contact info@perspectivasjournal.com