'Pior que Inimigos, Irmãos': Sobre a Guerra Civil Portuguesa (1828-1834)
'Worse Than Enemies, Brothers': About the Portuguese Civil War (1828-1834)
Hugo Carvalho de Matos Fernandez

Researcher of the Research Center in Political Science (CICP).
Keywords:
Absolutism, Liberalism, Ideological Extremism, Political Radicalization, Portuguese Civil War
Abstract
In the first third of the nineteenth century, the rule of D. Miguel constituted the main fracturing element within the Portuguese society, shaping a process of political radicalization with consequences of enormous gravity, which resulted in a brutal civil war and national trauma that took decades to overcome. Far beyond the dynastic question, the Portuguese Civil War (1828-1834) translated a barely reconcilable ideological rivalry, two antagonistic views of the world, positioned under the political banners of absolutism and liberalism. It is from this perspective that we will take a brief look at what was undoubtedly one of the most troubled periods in the history of Portugal, a painful stage in the transition from the Old regime to the contemporary.
Resumo
No primeiro terço do século XIX, a governação de D. Miguel constituiu o principal elemento fraturante no seio da sociedade portuguesa, moldando um processo de radicalização política com consequências de enorme gravidade, que redundou numa brutal guerra civil e num trauma nacional que levou décadas a ultrapassar. Muito para além da questão dinástica, a guerra civil portuguesa (1828-1834) traduziu uma rivalidade ideológica dificilmente conciliável, duas visões antagónicas do mundo, posicionadas sob os estandartes políticos do absolutismo e do liberalismo. É nesta perspetiva que faremos uma breve abordagem daquele que foi, sem dúvida, um dos mais conturbados períodos da história de Portugal, etapa dolorosa na transição do Antigo regime para a contemporaneidade.
Downloads
Download data is not yet available.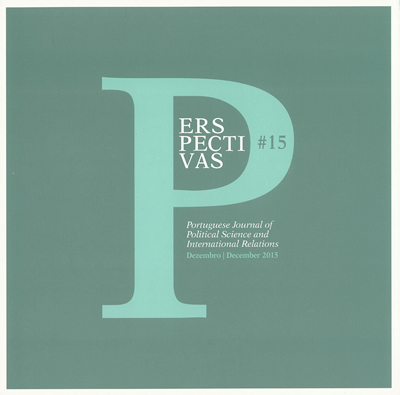 How to Cite
Fernandez, H. (2015). 'Pior que Inimigos, Irmãos': Sobre a Guerra Civil Portuguesa (1828-1834). Perspectivas - Journal of Political Science, 15, 75-93. https://doi.org/10.21814/perspectivas.77
Copyright (c) 2016 Perspectivas - Journal of Political Science
This work is licensed under a Creative Commons Attribution-NonCommercial 4.0 International License.
Authors must be sure that they have permission to reproduce copyright material, prior to submitting their articles to this Journal.
Authors must secure permission if they have permission to reproduce figures, tables, or any extract from the text of another source. This applies to direct reproduction as well as to any derivative reproduction.
In assigning copyright, authors retain their right to use their own material elsewhere, provided that the Journal is acknowledged as the original place of publication, and the Editorial Team is notified in writing in advance.
Further information on copyright policy please contact info@perspectivasjournal.com