Transdisciplinaridade e política. Um encontro possível?
Keywords:
Transdisciplinaridade, Nicolescu, Fisica quantica, Transpolítica
Abstract
Why transdisciplinary theory seems to be indifferent to political thought; focusing mainly on the domains of epistemology, ethics and education? Searching a response, we will divided the analyse into three fundamental moments: first, we will try to clarify what's "transdisciplinarity". Then, we will explore the relationship between transdisciplinarity and disciplinary knowledge, focusing on the specific relationship between transdisciplinarity and political science. Finally, we will advance two hypotheses: on the one hand, we'll demonstrate that "politics" is "the removed" of transdisciplinarity, on the other hand, we'll suggest the need of a "politicization" of transdisciplinary theory to achieve its main objective: being a theory involved in the transformation of the world
Resumo
O questionamento em torno das condições de possibilidade e das consequências duma abordagem transdisciplinar da política embate logo no problema da essencial indiferença da transdisciplinaridade face ao pensamento político; a reflexão transdisciplinar focando-se até agora principalmente nos domínios da epistemologia, da ética, da educação. A nossa análise dividir-se-á em três momentos fundamentais: em primeiro lugar, e de forma preliminar, cuidaremos de esclarecer o que é para intender com "transdisciplinaridade". Em seguida, especificando a nossa investigação, levaremos a cabo uma análise da relação entre transdisciplinaridade e saberes disciplinares, focando o olhar quer na relação geral entre transdisciplinaridade e ciências humanas quer na específica entre a transdisciplinaridade e a ciência política. Por fim, avançaremos duas hipóteses fundamentais, estritamente ligadas entre elas: por um lado a de que o "político" representa o "removido" da transdisciplinaridade, por outro, e por conseguinte, a de que apenas uma "politização" do dispositivo teórico transdisciplinar lhe permitiria alcançar o seu principal objetivo: tornar-se uma teoria capaz de desempenhar um papel ativo na transformação do mundo.
Downloads
Download data is not yet available.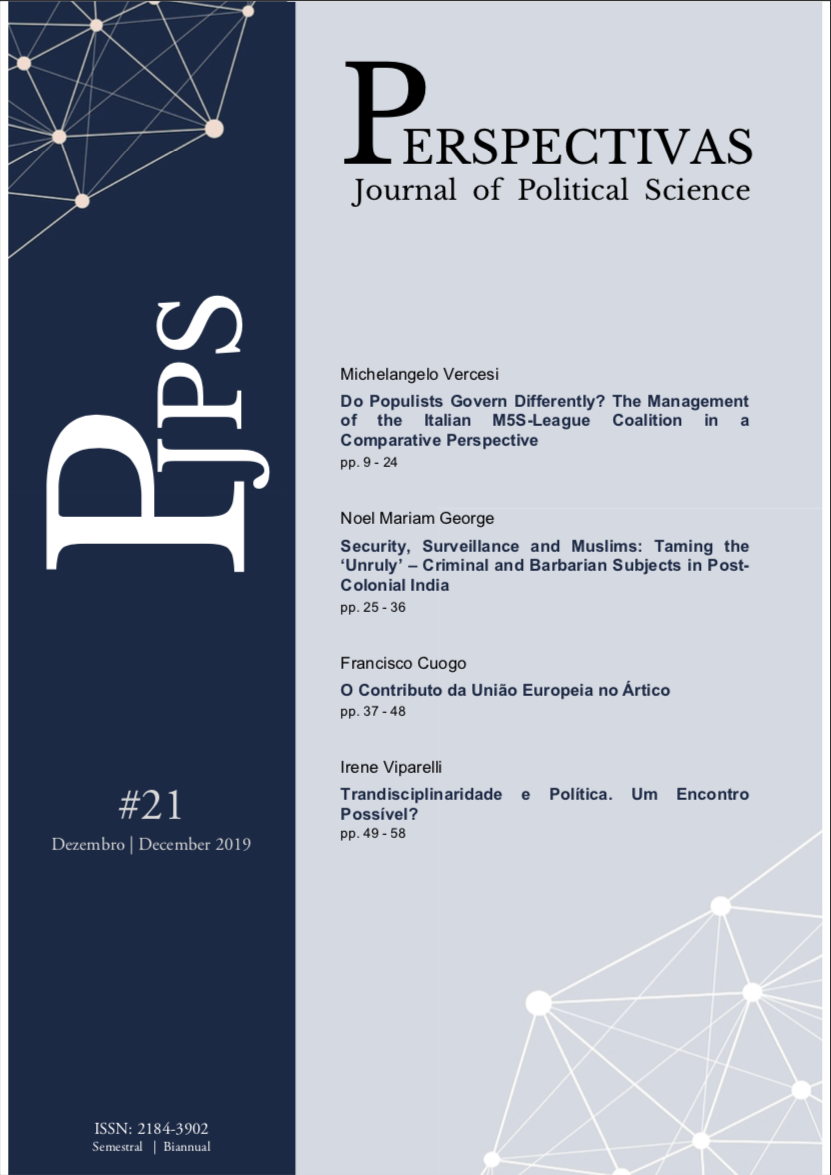 Downloads
How to Cite
Viparelli, I. (2019). Transdisciplinaridade e política. Um encontro possível?. Perspectivas - Journal of Political Science, 21, 49-58. https://doi.org/10.21814/perspectivas.2507
License
Authors must be sure that they have permission to reproduce copyright material, prior to submitting their articles to this Journal.
Authors must secure permission if they have permission to reproduce figures, tables, or any extract from the text of another source. This applies to direct reproduction as well as to any derivative reproduction.
In assigning copyright, authors retain their right to use their own material elsewhere, provided that the Journal is acknowledged as the original place of publication, and the Editorial Team is notified in writing in advance.
Further information on copyright policy please contact info@perspectivasjournal.com