Paz e Democracia: De que forma estão relacionadas?
Peace and Democracy: How are they related?
Keywords:
Authoritarianism, Conflicts, Democracy, Peace
Abstract
Peace and democracy are two elements that, by their nature, seem to be associated. At the outset, countries where democracy is the prevailing political regime should also be those characterized by a higher level of peace. However, it is also well known that many democratic countries have been involved in military conflicts - albeit external ones - and some of them have also been the target of terrorist attacks. The question thus arises: how does peace and democracy relate to each other? This paper intends to contribute to the answer to this question, considering the latest data on global peace indicators and democracy indicators.The results show a positive overall correlation, but also show that this correlation differs according to whether different clusters of countries and/or the different dimensions of the peace indicator are considered.
Resumo
A paz e a democracia são dois elementos que, pela sua natureza, parecem (dever) estar associados. À partida, os países onde a democracia é o regime político prevalecente deverão ser também aqueles que se caracterizam por um nível superior de paz. No entanto, é também sabido que muitos países democráticos se têm envolvido em conflitos militares, – sendo certo que externos –, e alguns deles, também, têm sido alvo de atentados de natureza terrorista. Coloca-se, assim, a questão: de que forma a paz e a democracia se relacionam? Neste trabalho pretende-se contribuir para a resposta a esta questão, para tal considerando os mais recentes dados sobre indicadores de paz global e indicadores de democracia. Os resultados mostram uma correlação, em termos globais, positiva, mas mostram também que esta correlação difere consoante sejam considerados diferentes clusters de países e/ou as diferentes dimensões inerentes ao indicador da paz.
Downloads
Download data is not yet available.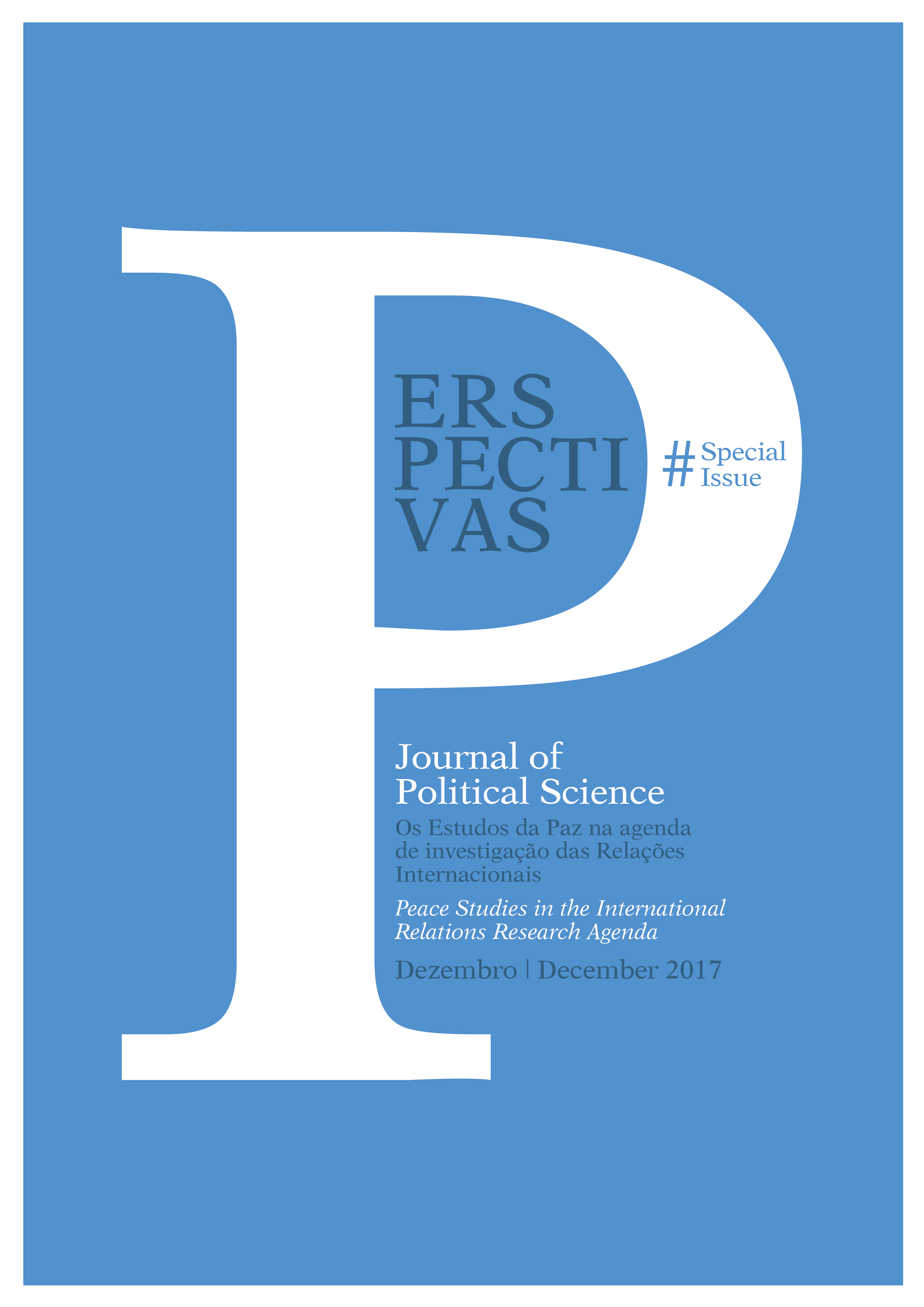 Downloads
How to Cite
Caleiro, A. B. (2017). Paz e Democracia: De que forma estão relacionadas? Peace and Democracy: How are they related?. Perspectivas - Journal of Political Science, 17, 17-24. https://doi.org/10.21814/perspectivas.98
License
Authors must be sure that they have permission to reproduce copyright material, prior to submitting their articles to this Journal.
Authors must secure permission if they have permission to reproduce figures, tables, or any extract from the text of another source. This applies to direct reproduction as well as to any derivative reproduction.
In assigning copyright, authors retain their right to use their own material elsewhere, provided that the Journal is acknowledged as the original place of publication, and the Editorial Team is notified in writing in advance.
Further information on copyright policy please contact info@perspectivasjournal.com