Capital x Labor in the Creative Industries: A Marxist Approach to Copyright and Related Rights
Capital x Trabalho nas Indústrias Criativas: uma Abordagem Marxista para os Direitos de Autor e Direitos Relacionados
Keywords:
Copyright, Marxism, Politics
Abstract
This paper aims to develop an alternative framework to understand copyright based upon a Marxist analysis of this field in political science grounds. By providing a bibliographical research on both the fundamentals of property theories and Marxist perspectives, I try to promote another understanding on how creative industries operate. Therefore, the paper provides a literature study on both intellectual property theories and Marxism. Regarding intellectual property theories, I focus on four types of approaches: utilitarian theory, labor theory, personality theory and culture theory. In what concerns Marxist perspectives, I explain most fundamental concepts such as "class", "exploitation" and the relationship between classes and State according to a Marxist view. These concepts are important to understand lobbying of creative industries. Then, I try to build a framework that links these concepts. Finally, I employ this Marxist framework to the "modus operandi" of copyright core industries analyzing how stakeholders interact with each other and in what extent they may affect public policies about copyright and related rights. In the final remarks, I suggest a research agenda on Marxism and copyright. Thus, this is a preliminary exercise to encourage other studies.
Resumo
Este artigo tem como objetivo desenvolver uma estrutura alternativa para entender os direitos autorais com base na análise marxista desta área. Ao fornecer uma pesquisa bibliográfica sobre os fundamentos das teorias da propriedade e as perspetivas marxistas, tenta-se promover um outro entendimento sobre como as indústrias criativas operam. Portanto, o artigo fornece um estudo de literatura sobre teorias de propriedade intelectual e marxismo. Em relação às teorias de propriedade intelectual, concentro-me em quatro tipos de abordagens: teoria do bem-estar, teoria do trabalho, teoria da personalidade e teoria da cultura. No que concerne às perspetivas marxistas, explicam-se os conceitos fundamentais como "classe", "exploração" e a relação entre classes e Estado, de acordo com a visão marxista. Deste modo, constrói-se um framework que conecte estes conceitos. Por fim, emprega-se essa estrutura marxista no "modus operandi" das indústrias centrais de direitos autorais, analisando como as partes interessadas interagem umas com as outras e em que medida elas podem afetar as políticas públicas sobre direitos autorais e direitos relacionados. Nas considerações finais, sugere-se uma agenda de pesquisa sobre marxismo e direitos autorais. Este é um exercício preliminar para encorajar outros estudos.
Downloads
Download data is not yet available.
References
Bosselman, M. 2006. Understanding Creative Industries: Cultural statistics for public-policy making. Unesco.
Bourdieu, Pierre. 1986. O poder simbólico. Lisbon: Difel.
Bourdieu, Pierre. 2011. "O Campo Político." Revista Brasileira de Ciência Política 5: 193-216.
Bottomore, Thomas B. 1966 [1964]. Elites and Society. Penguin Books: London.
Boyle, James. 2008. The Public Domain: Enclosing the Commons of the Mind. New Haven and London: Yale University Press.
Dunlop, Steward, and Susan Galloway. 2006. "Deconstructing the Concept of 'Creative Industries'". In Cultural Industries: The British Experience in International Perspective, edited by Christiane Eisenberg, Rita Gerlach, and Christian Handke.
Hebb, Marian, and Warren Sheffer. 2006. "Towards a Fair Deal: Contracts and Canadian Creators' Rights". Prepared for the Creators' Copyright Coalition and the Creators' Rights Alliance/Alliance pour les droits des Créateurs.
Herman, Bill D. 2009. "The battle over digital rights management: A multimethod study of the politics of copyright management technologies". PhD dissertation, University of Pennsylvania.
Hughes, Justin. 1988. "The Philosophy of Intellectual Property."Georgetown Law Journal 77(287).
Hull, Gordon. 2009. "Clearing the Rubbish: Locke, the Waste Proviso, and the Moral Justification of Intellectual Property." Public Affairs Quarterly 23(1): 67-93.
Fisher, William T. 2001. "Theories of Intellectual Property". In New Essays in the Legal and Political Theory of Property, 193.
Fisher, William T. 2004. Promises to Keep: Technology, Law, and the Future of Entertainment. Stanford: Stanford University Press.
Landes, William M., and Richard A. Posner. 1989. "An Economic Analysis of Copyright Law." Journal of Legal Studies 18: 325-363.
Larivière, Vincent, Stefanie Haustein, and Philippe Mongeon. 2015. "The Oligopoly of Academic Publishers in the Digital Era." PLOS ONE 10(6).
Lee, David. 2013. Creative Labour in the Cultural Industries. Sociopedia.isa.
Littoz-Monnet, Annabelle. 2006. "Copyright in the EU: droit d'auteur or right to copy?." Journal of European Public Policy 13(3): 348-455.
Marx, Karl, and Friedrich Engels. 2007 [1848]. Manifesto do Partido Comunista. São Paulo: Martin Claret.
Marx, Karl. 2005 [1844]. A Questão Judaica. São Paulo: Centauro.
Marx, Karl. 1970 [1865]. Salaire, prix et profit. Beijing: Éditions en Langues Etrangères.
Marx, Karl. 1981 [1875]. Critique des programmes de Gotha et d'Erfurt. Paris: Sociales.
Marx, Karl, and Friedrich Engels. 1970 [1867]. Capital: a critical analysis of capitalist production. Moscow: Progress.
McGuigan, Glenn S., and Robert D. Russel. 2008. "The Business of Academic Publishing: A Strategic Analysis of the Academic Journal Publishing Industry and its Impact on the Future of Scholarly Publishing." Electronic Journal of Academic and Special Librarianship 9(3).
Menell, Peter S. 2000. "Intellectual Property: General Theories". In Encyclopedia of Law Economics. Edward Elgar Publishing.
Miguel, Luis Felipe. 1998. "De que falam os marxistas quando falam em classes?." Revista Mediações Londrina 3(1): 23-29.
Narveson, Jan. 1999. "Property Rights: Original Acquisition and Lockean Provisos." Public Affairs Quarterly 13(3): 205-227.
Offe, Claus. 1984 [1972]. Problemas estruturais do Estado capitalista. Rio de Janeiro: Tempo Brasileiro.
O'Hara, Dan. 2000. "Capitalism and Culture: Bourdieu's Field Theory." Amerikastudien/American Studies 45(1): 43- 53.
O'Rourke, Maureen A. 2003. "Bargaining in the Shadow of Copyright Law after Tasini." Case Western Reserve Law Review 53(3): 605-638.
Pires, Bruno Teixeira Bento. 2012. "The impact of 'Creative Industries' definitions on subsector typologies. School of Arts of the Catholic University of Portugal". Master dissertation, School of Arts of the Catholic University of Portugal.
Poulantzas, Nicos. 2000 [1978]. O Estado, o poder, o socialismo. Rio de Janeiro: Edições Graal.
Rossiter, Ned. 2003. FCJ-001 Report: "Creative Labour and the Role of Intellectual Property." The Fibreculture Journal 1.
Santos, Luiz Alberto. 2007. "Regulamentação das atividades de lobby e seu impacto sobre as relações entre políticos, burocratas e grupos de interesse no ciclo de políticas públicas – análise comparativa dos Estados Unidos e Brasil", PhD dissertation, University of Brasília.
Söderberg, Johan. 2002. "Copyleft vs. Copyright: A Marxist critique." First Monday 7(3).
Thompson, Edward Palmer. 1978. "Eighteenth-Century English Society: Class Struggle without Class?" Social History 3(2).
Wright, Erik Olin. 1997. "Class Analysis". In Class Counts: Comparative Studies in Class Analysis. Cambridge: Cambridge University Press.
Vico, Antonio Muñoz. 2015. "Praise and criticism of the collective management of copyrights: a Spanish and European view." International Journal of Intellectual Property Management 8(1/2).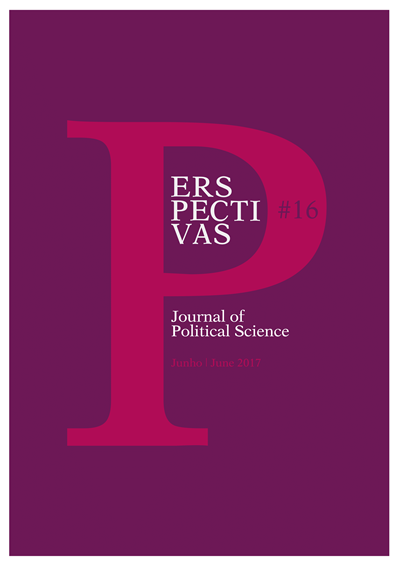 Downloads
How to Cite
Albrecht, N. (2017). Capital x Labor in the Creative Industries: A Marxist Approach to Copyright and Related Rights: Capital x Trabalho nas Indústrias Criativas: uma Abordagem Marxista para os Direitos de Autor e Direitos Relacionados. Perspectivas - Journal of Political Science, 16, 07-20. https://doi.org/10.21814/perspectivas.80
License
Copyright (c) 2017 Perspectivas - Journal of Political Science
This work is licensed under a Creative Commons Attribution-NonCommercial 4.0 International License.
Authors must be sure that they have permission to reproduce copyright material, prior to submitting their articles to this Journal.
Authors must secure permission if they have permission to reproduce figures, tables, or any extract from the text of another source. This applies to direct reproduction as well as to any derivative reproduction.
In assigning copyright, authors retain their right to use their own material elsewhere, provided that the Journal is acknowledged as the original place of publication, and the Editorial Team is notified in writing in advance.
Further information on copyright policy please contact info@perspectivasjournal.com