O episódio 'puritano' - Poder régio e aristocracia no Antigo Regime português
The 'Puritan' episode: Royal power and aristocracy in the Old Portuguese Regime
Keywords:
Absolutism, Nobility, Blood Purity, Lineage
Abstract
When, by the Charter of October 5, 1768, Don Jose I forbade the existence of the so-called Puritans, censoring their strict homogamy, did much more than end a marriage strategy considered undesirable or extinguish an aristocratic sect that had been perpetuating since the 17th century. He reaffirmed his authority as an absolute monarch and clearly established the terms of the "social contract" between the king and the national aristocracy, rejecting a phenomenon that undermined royal power and royal determination of existing social taxonomies. The main aim was to harmonize the interests of the Crown and the aristocracy in safeguarding a hierarchical-corporate order which, by ensuring the social pre-eminence of both, had the matrix of its functioning in the differentiation of status and social discrimination.
Resumo
Quando, por Alvará de 5 de outubro de 1768, D. José I proibiu a existência dos chamados Puritanos, censurando a sua estrita homogamia, fez muito mais do que acabar com uma estratégia matrimonial considerada indesejável ou extinguir uma seita aristocrática que se vinha perpetuando desde o século XVII. Reafirmou a sua autoridade enquanto monarca absoluto e estabeleceu com clareza os termos do "contrato social" entre o rei e a aristocracia nacionais, rejeitando um fenómeno que punha em causa o poder régio e a determinação, por parte da realeza, das taxonomias sociais existentes. Tratava-se, sobretudo, de harmonizar os interesses da Coroa e da aristocracia na salvaguarda de uma ordem hierárquico-corporativa que, assegurando a preeminência social de ambas, tinha na diferenciação de estatuto e na discriminação social a matriz do seu funcionamento. 
Downloads
Download data is not yet available.
References
Aboim, Diogo Guerreiro Camacho de. 1759. Escola moral, política, cristã, e jurídica. Lisboa: Oficina de Bernardo António de Oliveira.
Almeida, Cândido Mendes de. 1870. Código Filipino. Rio de Janeiro: Tipografia do Instituto Filomático.
Anderson, Perry. 1984. Linhagens do Estado absolutista. Porto: Afrontamento.
Asch, Ronald G., e Heinz Duchhardt. 2000. El absolutismo. Un mito? Barcelona: Idea Books.
Castro, José da Gama e. 1841. O novo príncipe ou o espírito dos governos monárquicos. Rio de Janeiro: Tipografia de J. Villeneuve e Comp.
Devyver, André. 1973. Le sang épuré. Les préjugés de race chez les gentilshommes français de l'Ancien Régime (1560-1720). Bruxelas: Université de Bruxelles.
Henshall, Nicholas. 1996. The myth of absolutism. Londres: Longman.
Hespanha António Manuel. 1993. "O Antigo Regime". In História de Portugal, editado por José Mattoso. Lisboa: Estampa.
Jacquinet, Maria Luísa. 2008. "Em desagravo do Santíssimo Sacramento: o 'Conventinho Novo'." Dissertação de mestrado, Universidade Aberta.
Jouanna, Arlette. 1989. Le devoir de révolte. La noblesse française et la gestation de l'État moderne 1559-1661. Paris: Fayard.
Macedo, Jorge Borges de. 1982. "Dialética da sociedade portuguesa no tempo de Pombal." Brotéria 6: 451-459.
Mandrou, Robert. 1980. La raison du prince. L'Europe absolutiste (1649-1775). Verviers: Marabout.
Maravall, Jose Antonio. 1972. Estado moderno y mentalidad social, siglos XV a XVII, II Tomos. Madrid: Revista de Occidente.
Maravall, Jose Antonio. 1984. Poder, honor y élites en el siglo XVII. Madrid: Siglo XXI.
Marcos, Rui M. de Figueiredo. 2006. A legislação pombalina. Coimbra: Almedina.
Mendonça, Hipólito José da Costa Pereira Furtado de. 1817. Correio Brasiliense ou Armazém Literário, maio. Londres: Paternoster.
Meyer, Jean. 1973. Noblesses et pouvoirs dans l'Europe d'Ancien Regime. Paris: Hachette.
Monteiro, Nuno Gonçalo. 1993. "Poder senhorial, estatuto nobiliárquico e aristocracia". In O Antigo Regime, coordenado por António Manuel Hespanha: 333-379. Lisboa: Estampa.
Monteiro, Nuno Gonçalo. 1998. O crepúsculo dos Grandes: a casa e o património da aristocracia em Portugal (1750-1832). Lisboa: INCM.
Monteiro, Nuno Gonçalo. 1998a. "O ethos da aristocracia portuguesa sob a dinastia de Bragança." Revista de História das Ideias 19: 383-402.
Monteiro, Nuno Gonçalo. 2008. D. José. Lisboa: Temas e Debates.
Olival, Fernanda. 2001. As ordens militares e o Estado moderno. Honra, mercê e venalidade em Portugal (1641-1789). Lisboa: Estar.
Oliveira, Luís da Silva Pereira. 1806. Privilégios da nobreza, e fidalguia de Portugal. Lisboa: Oficina de João Rodrigues Neves.
Osório, D. Jerónimo. 1996. Tratados da nobreza civil e cristã [1542]. Lisboa: INCM.
Ribeiro, João Pinto. 1730. "Sobre os títulos da nobreza de Portugal, e seus Privilégios". In Obras Várias, Parte II. Coimbra: Oficina de José Antunes da Silva.
Sampaio, António de Vilas Boas e. 1728. Nobiliarquia portuguesa, tratado da nobreza hereditária e política. Lisboa: Oficina de Filipe de Sousa e Vilela.
Vera, Álvaro Ferreira de. 2005. Origem da nobreza política, brasões de armas, apelidos, cargos e títulos nobres [1631]. Lisboa: Livro Aberto.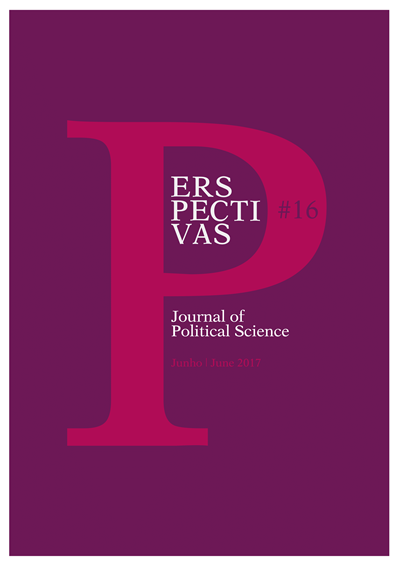 Downloads
How to Cite
Fernandez, H. (2017). O episódio 'puritano' - Poder régio e aristocracia no Antigo Regime português: The 'Puritan' episode: Royal power and aristocracy in the Old Portuguese Regime. Perspectivas - Journal of Political Science, 16, 49-61. https://doi.org/10.21814/perspectivas.91
License
Copyright (c) 2017 Perspectivas - Journal of Political Science
This work is licensed under a Creative Commons Attribution-NonCommercial 4.0 International License.
Authors must be sure that they have permission to reproduce copyright material, prior to submitting their articles to this Journal.
Authors must secure permission if they have permission to reproduce figures, tables, or any extract from the text of another source. This applies to direct reproduction as well as to any derivative reproduction.
In assigning copyright, authors retain their right to use their own material elsewhere, provided that the Journal is acknowledged as the original place of publication, and the Editorial Team is notified in writing in advance.
Further information on copyright policy please contact info@perspectivasjournal.com