Mapping the South European Ideological Space: The Impact of Globalization on Party Discourse in Italy, Greece, Portugal and Spain
Mapeando o Espaço Ideológico do Sul da Europa: O Impacto da Globalização no Discurso Partidário em Itália, Grécia, Portugal e Espanha
Keywords:
Euromanifestos, ideological space, globalization, Southern Europe
Abstract
The purpose of this paper is to offer a comprehensive account of the structure of ideological space in Southern Europe and contribute to the ongoing discussion concerning the impact of globalization on the domestic politics of European countries. We analyze party manifestos from European elections in Italy, Greece, Spain and Portugal using multidimensional scaling. Even though our findings largely support the hypothesis that components of the globalization divide tend to transform the content of the traditional cultural-political dimension, we observe that this transformation occurs in different ways across national contents. 
Resumo
O objetivo deste artigo é oferecer um relato abrangente da estrutura do espaço ideológico no sul da Europa e contribuir para a discussão em curso sobre o impacto da globalização na política interna dos países europeus. Analisamos manifestos partidários em eleições europeias na Itália, Grécia, Espanha e Portugal usando escalonamento multidimensional. Embora as nossas descobertas apoiem amplamente a hipótese de que os componentes da divisão da globalização tendem a transformar o conteúdo da tradicional dimensão político-cultural, observamos que essa transformação ocorre de diferentes maneiras em conteúdos nacionais.
Downloads
Download data is not yet available.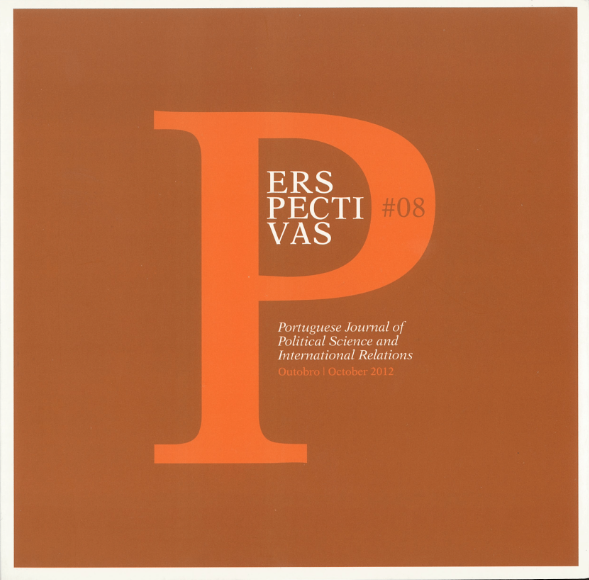 Downloads
How to Cite
Tsatsanis, E., & Teperoglou, E. (2012). Mapping the South European Ideological Space: The Impact of Globalization on Party Discourse in Italy, Greece, Portugal and Spain: Mapeando o Espaço Ideológico do Sul da Europa: O Impacto da Globalização no Discurso Partidário em Itália, Grécia, Portugal e Espanha. Perspectivas - Journal of Political Science, 8, 5–36. https://doi.org/10.21814/perspectivas.33
License
Authors must be sure that they have permission to reproduce copyright material, prior to submitting their articles to this Journal.
Authors must secure permission if they have permission to reproduce figures, tables, or any extract from the text of another source. This applies to direct reproduction as well as to any derivative reproduction.
In assigning copyright, authors retain their right to use their own material elsewhere, provided that the Journal is acknowledged as the original place of publication, and the Editorial Team is notified in writing in advance.
Further information on copyright policy please contact info@perspectivasjournal.com