Away Inside: Emigrants and Transnationalism Through the Eyes of Political Parties
Fora por Dentro: Emigrantes e o Transnacionalismo na visão dos Partidos Políticos
Keywords:
Elections, emigrants, migration, political parties, transnationalism
Abstract
This article examines how political parties in Portugal organize concerning emigrants and the subject of migration outflow, uncovering the issues and strategies that they favour. The 2009 Portuguese legislative elections offer a privileged site for empirical inquiry. Not only are emigrants able to elect members of the national parliament  through particular voting districts, but also a complete period of electoral campaigning under standard institutional conditions (rather than early elections) could thus be followed in real-time by the research team. Analysis draws chiefly on electoral manifestos, campaign activities, and first-hand interviews with members of the parliament and public officials. A close tie between the capacity of parties to organize abroad and the salience of issues related to the emigrant population in party programs is exposed. It is argued that the ambigous position of external voting between the strengthening of national(istic) bonds and transnational citizenship is disputed within the party system, since attitudes towards each of these perspectives vary across parties. Parties must therefore be understood as key players in the ongoing redefinition of the political agency of migrants, bearing a significant impact on their participation and representation. Last, implications for future research are addressed.
Resumo
Este artigo analisa a forma como os partidos políticos em Portugal se organizam em relação aos emigrantes e ao tema do fluxo migratório, revelando as questões e estratégias pelas quais mostram preferência. As eleições legislativas portuguesas de 2009 oferecem um local privilegiado para a investigação empírica. Não somente os emigrantes podem eleger membros do parlamento nacional através de distritos eleitorais específicos, mas também existe um período completo de campanha eleitoral sob condições institucionais padrão (ao invés de eleições antecipadas) que pode ser seguido em tempo real pela equipa de investigação. A análise baseia-se principalmente em manifestos eleitorais, atividades de campanha e entrevistas em primeira mão com membros do parlamento e funcionários públicos. Exist um laço estreito entre a capacidade das partes em se organizarem no exterior e nas questões relacionadas com a população emigrante nos programas partidários. Argumenta-se que a posição ambígua de voto externo entre o fortalecimento de vínculos nacionais (istic) e a cidadania transnacional é disputada dentro do sistema partidário, uma vez que as atitudes em relação a cada uma dessas perspetivas variam entre os partidos. As partes devem, portanto, ser entendidas como atores-chave na redefinição contínua da agência política dos migrantes, com impacto significativo em sua participação e representação. Por fim, as implicações para futuras investigações são abordadas.
Downloads
Download data is not yet available.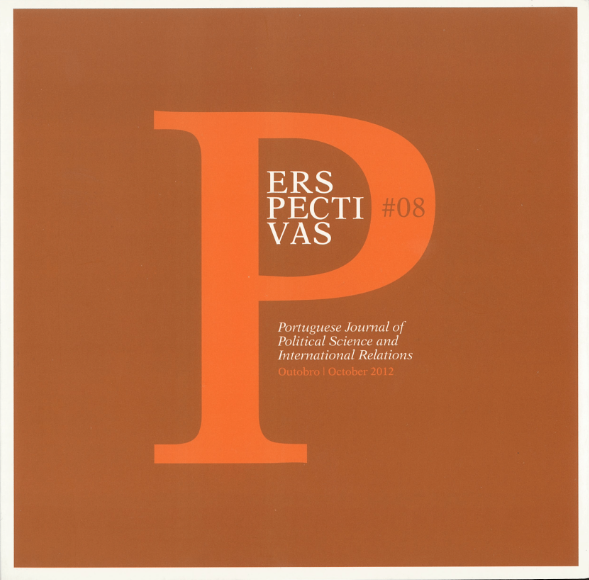 Downloads
How to Cite
Abrantes, M., Azevedo, J., Belchior, A. M., & Lisi, M. (2012). Away Inside: Emigrants and Transnationalism Through the Eyes of Political Parties: Fora por Dentro: Emigrantes e o Transnacionalismo na visão dos Partidos Políticos. Perspectivas - Journal of Political Science, 8, 61–82. https://doi.org/10.21814/perspectivas.36
License
Authors must be sure that they have permission to reproduce copyright material, prior to submitting their articles to this Journal.
Authors must secure permission if they have permission to reproduce figures, tables, or any extract from the text of another source. This applies to direct reproduction as well as to any derivative reproduction.
In assigning copyright, authors retain their right to use their own material elsewhere, provided that the Journal is acknowledged as the original place of publication, and the Editorial Team is notified in writing in advance.
Further information on copyright policy please contact info@perspectivasjournal.com