Cultura, Europa e Mundialização: Dez Anos depois de O Esplendor do Caos de Eduardo Lourenço
Culture, Europe and Globalization: Ten Years after Eduardo Lourenço's 'Chaos Splendor'
Keywords:
Eduardo Lourenço, Chaos, Europe, America, History, Light and Images
Abstract
1. A unique case in a consecrated work.
2. How to present The Splendor of Chaos? What splendor? A reading hypothesis: The world as a cataract of images.
3. Ten years later.
Resumo
1. Um caso singular numa obra consagrada.
2. Como apresentar O Esplendor do Caos? Que esplendor? Uma hipótese de leitura: O mundo como catarata de imagens.
3. Dez anos depois.
Downloads
Download data is not yet available.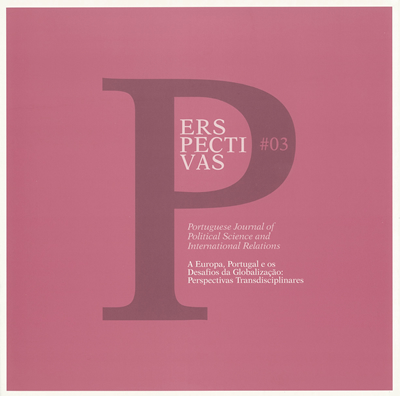 Downloads
How to Cite
de Lima, J. T. P. (2010). Cultura, Europa e Mundialização: Dez Anos depois de O Esplendor do Caos de Eduardo Lourenço: Culture, Europe and Globalization: Ten Years after Eduardo Lourenço's 'Chaos Splendor'. Perspectivas - Journal of Political Science, 3, 117-123. https://doi.org/10.21814/perspectivas.8
License
Authors must be sure that they have permission to reproduce copyright material, prior to submitting their articles to this Journal.
Authors must secure permission if they have permission to reproduce figures, tables, or any extract from the text of another source. This applies to direct reproduction as well as to any derivative reproduction.
In assigning copyright, authors retain their right to use their own material elsewhere, provided that the Journal is acknowledged as the original place of publication, and the Editorial Team is notified in writing in advance.
Further information on copyright policy please contact info@perspectivasjournal.com