Biodiversity Governance in Developing Countries: Brazil 1990-2010
Governança da Biodiversidade nos Países em Desenvolvimento: Brasil 1990-2010
Keywords:
Biodiversity policy, Brazil, historical institutionalism, governance
Abstract
This article approaches the evalution of various modes of environmental governance in developing countries by analyzing the Brazilian policy towards biological diversity between 1990 and 2010. Governance is broadly defined as an ensemble of systems of coordination and control among a variety of players with different purposes and objectives. This study draws on previous works on governance in the European Union (EU) that identify four main types of relationships between various political actors. Such relationships may be classified as follows: a) statism, characterized by a hierarchical relationship among political actors; b) pluralism, where a wider variety of private actors is observed; c) corporatism, where the state acts together with privileged private actors, and d) networks formed by public and private actors interacting over time. A historical-institutionalist approach coupled with process-tracing methodology allows for the comparison, over time, of critical trends in biodiversity governance clustered around three dimensions: actors (public-private dimension); institutions (rules and structures, decision making), and policy outcomes. By adapting this typology to the Brazilian case, this article seeks to shed light on the means by which public and private actors from developing countries participate in the formulation and negotiation of policies to contain biodiversity loss.
Resumo
Este artigo aborda a avaliação de vários modos de governança ambiental em países em desenvolvimento, analisando a política brasileira de diversidade biológica entre 1990 e 2010. A governança é amplamente definida como um conjunto de sistemas de coordenação e controlo entre diversos atores com diferentes propósitos e objetivos.  Este estudo baseia-se em trabalhos anteriores sobre governança na União Europeia (UE) que identificam quatro tipos principais de relações entre vários atores políticos. Tais relações podem ser classificadas da seguinte forma: a) estatismo, caracterizado por uma relação hierárquica entre os atores políticos; b) pluralismo, onde uma variedade mais ampla de atores privados é observada; c) corporativismo, onde o Estado atua em conjunto com atores privados privilegiados; e d) redes formadas por atores públicos e privados que interagem ao longo do tempo. Uma abordagem histórico-institucionalista aliada à metodologia de rastreamento de processos permite a comparação, ao longo do tempo, de tendências críticas na governança da biodiversidade agrupadas em torno de três dimensões: atores (dimensão público-privada); instituições (regras e estruturas, tomada de decisão); e resultados de políticas. Ao adaptar essa tipologia ao caso brasileiro, este artigo procura elucidar os meios pelos quais atores públicos e privados de países em desenvolvimento participam na formulação e negociação de políticas para conter a perda de biodiversidade.
Downloads
Download data is not yet available.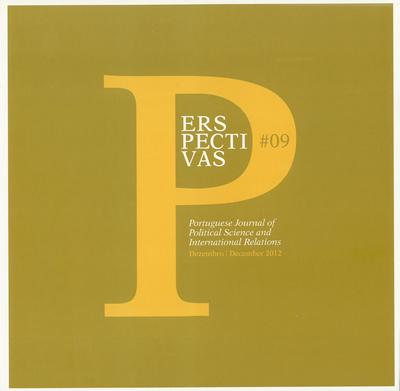 Downloads
How to Cite
Couto, T. (2012). Biodiversity Governance in Developing Countries: Brazil 1990-2010: Governança da Biodiversidade nos Países em Desenvolvimento: Brasil 1990-2010. Perspectivas - Journal of Political Science, 9. https://doi.org/10.21814/perspectivas.41
License
Authors must be sure that they have permission to reproduce copyright material, prior to submitting their articles to this Journal.
Authors must secure permission if they have permission to reproduce figures, tables, or any extract from the text of another source. This applies to direct reproduction as well as to any derivative reproduction.
In assigning copyright, authors retain their right to use their own material elsewhere, provided that the Journal is acknowledged as the original place of publication, and the Editorial Team is notified in writing in advance.
Further information on copyright policy please contact info@perspectivasjournal.com