The US in Justice. Liberal Criteria for Exclusion and Inclusion
Os EUA na justiça. Critérios Liberais de Exclusão e Inclusão
Keywords:
Liberalism, Transnational Justice, Nation-State, Cosmopolitanism, Justice as fairness
Abstract
The current debate between national and cosmopolitan liberalism has reached a dead-lock because of the importance they both award to culture in the realm of justice. This paper analyzes both proposals considering only the extent to which they achieve liberal objectives. On the one hand, cosmopolitanism reveals to be illiberal: Sen argues that the only way to warrant plurality is through an external eye in order to avoid dangerous localisms, which cancels cosmopolitanism´s proposal as it is based on a unique metaphysical conception of the human being. On the other hand, national liberalism may occlude justice as fairness if the cultural and essentialist identity that shapes the state creates hurdles for distributing wealth within the national society: albeit nationalism has largely been efficient as the basis for fairness, with the advent of free-trade economy, the nation-state has lost the means to control its peolpe´s future.This paper holds the hypothesis that it is not cultural sympathies that allow voluntary cooperation within the state, but it is the possibility of justice that creates common sympathies within the population. Therefore, beyond any cultural considerations, a liberal state must be defined only by the extent to which it fulfills the ethical, material and spatial requirements of justice as fairness.
Resumo
O debate atual entre o liberalismo nacional e cosmopolita chegou a um beco sem saída devido à importância que ambos atribuem à cultura no campo da justiça. Este artigo analisa as duas propostas considerando apenas a medida em que atingem objetivos liberais. Por um lado, o cosmopolitismo revela-se liberal: Sen argumenta que a única maneira de garantir a pluralidade é através de um olho externo, a fim de evitar os localismos perigosos, o que anula a proposta do cosmopolitismo, pois tem por base uma conceção metafísica única do Ser Humano. Por outro lado, o liberalismo nacional pode obstruir a justiça como justiça se a identidade cultural e essencialista que molda o Estado cria obstáculos para a distribuição da riqueza dentro da sociedade nacional: embora o nacionalismo tenha sido eficiente como base para a justiça, com o advento da liberdade na economia do comércio, o Estado-nação perdeu os meios para controlar o futuro das suas pessoas. Este artigo sustenta a hipótese de que não são as simpatias culturais que permitem a cooperação voluntária dentro do Estado, mas a possibilidade de justiça que cria simpatias comuns dentro da população. Portanto, além de quaisquer considerações culturais, um estado liberal deve ser definido apenas pela medida em que satisfaça os requisitos éticos, materiais e espaciais da justiça como justiça.
Downloads
Download data is not yet available.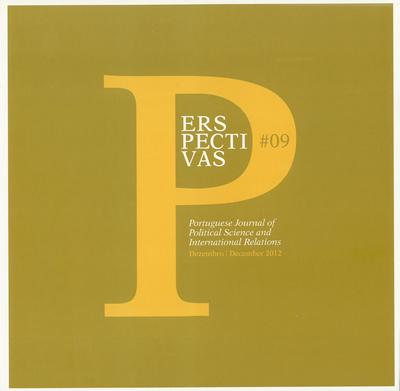 Downloads
How to Cite
Ivan Juárez, M. (2012). The US in Justice. Liberal Criteria for Exclusion and Inclusion: Os EUA na justiça. Critérios Liberais de Exclusão e Inclusão. Perspectivas - Journal of Political Science, 9. https://doi.org/10.21814/perspectivas.42
License
Authors must be sure that they have permission to reproduce copyright material, prior to submitting their articles to this Journal.
Authors must secure permission if they have permission to reproduce figures, tables, or any extract from the text of another source. This applies to direct reproduction as well as to any derivative reproduction.
In assigning copyright, authors retain their right to use their own material elsewhere, provided that the Journal is acknowledged as the original place of publication, and the Editorial Team is notified in writing in advance.
Further information on copyright policy please contact info@perspectivasjournal.com