Joined-Up Governance at Local Level
A Governação Conjunta ao Nível Local
Keywords:
Governance, Local Government, Networks, Collaboration
Abstract
This article analyzes an interorganizational cooperation initiative among local actors to improve local policy coordination. Based on the network approach to local governance, the study provides insight into why local actors cooperate and how cooperation works. The analysis is based on interviews with local authorities, public managers and local politicians.
Resumo
Este artigo analisa uma iniciativa de cooperação interorganizacional entre atores locais para melhorar a coordenação de políticas locais. Com base na abordagem de rede para a governança local, o estudo fornece informações sobre por que os atores locais cooperam e como a cooperação funciona. A análise é baseada em entrevistas com autoridades locais, gestores públicos e políticos locais.
Downloads
Download data is not yet available.
References
Araújo, Joaquim Filipe Ferraz Esteves de, and Susana Raquel Ferreira de Sá. 2002. "Changes in the Management of Interorganizational Relations in Portuguese Administration." In Sixth International Research Symposium on Public Management: 8-10. Edinburgh: IRSPM.
Araújo, Joaquim Filipe Ferraz Esteves de. 1999. "Reform and Institutional Persistence in Portuguese Central Administration." PhD diss., University of Exeter, UK.
Assembleia da República. 1999. Constituição da República Portuguesa. Lisboa.
Assembleia da República. 1999. Programa do XIV Governo Constitucional. Lisboa.
Bogason, Peter. 2000. Public Policy and Local Governance. Cheltenham: Edward Elgar.
Bovaird, Tony, Elke Löffler, and Salvador Parrado Diez. 2002. Developing Local Governance Networks in Europe. Baden-Baden: Nomos.
Bovary, Tony, and Elke Loffler. 2009. Public Management and Governance. London: Routledge.
Centro de Informação Científica e Técnica da Reforma Administrativa (CICTRA). 1987. Administração: factos e números. Lisbon: Secretaria de Estado do Orçamento.
Comissão de Apoio à Reestruturação do Equipamento e da Administração do Território (CAREAT). 1998. Descentralização, Regionalização e Reforma Democrática do Estado. Lisbon: Ministério do Equipamento, do Planeamento e da Administração do Território.
Departamento de Prospectiva e Planeamento. 2001. PIDDAC em números. Lisbon: Ministério do Planeamento.
Goss, Sue. 2001. Making Local Governance Work. Houndmills. UK: Palgrave.
Instituto de Gestão da Base de Dados dos Recursos Humanos da Administração Pública (IGBDRHAP). 2001. A Administração Pública em Números. Lisbon: Ministério da Reforma do Estado e da Administração Pública.
Kickert, Walter J. M., Erik-Hans Klijn, and Joop F.M. Koppenjan. 1997. "Managing Networks in the Public Sector: Findings and Reflections." In Managing Complex Networks: Strategies for the Public Sector, edited by Walter J. M. Kickert, Erik-Hanz Klijn and Joop F. M. Koppenjan: 166-191. London: Sage Publications.
Larmour, Peter. 1997. "Models of Governance and Public Administration". International Review of Administrative Sciences 63: 383-394.
Lecy, Jesse D., Ines A. Mergel, and Hans Peter Schmitz. 2014. "Networks in public administration: current scholarship in review." Public Management Review 16(5): 643-665.
Observatório da Competitividade e Qualidade de Vida (OCQV). 2003. Estudo Final. Braga: ADRVC.
Pereira, Armando. 1992. "Regionalism in Portugal". In Regions in the European Community, edited by Michael Keating and Barry Jones: 134-145. Cardiff: University of Wales.
Pereira, Armando. 1988. Disruptions and Continuities in Portuguese Politics. Porto: Comissão de Coordenação da Região Norte.
Pierre, Jon, and Peters, B. Guy. 2000. Governance, Politics and the State. Houndmills. UK: Palgrave.
Rhodes, Roderick, and Arthur William. 1996, "The New Governance: Governing Without Government." Political Science 44: 652-667.
SIEP. 2018. Síntese Estatística do Emprego Público. Lisboa: Direção-Geral da Administração e do Emprego Público (DGAEP).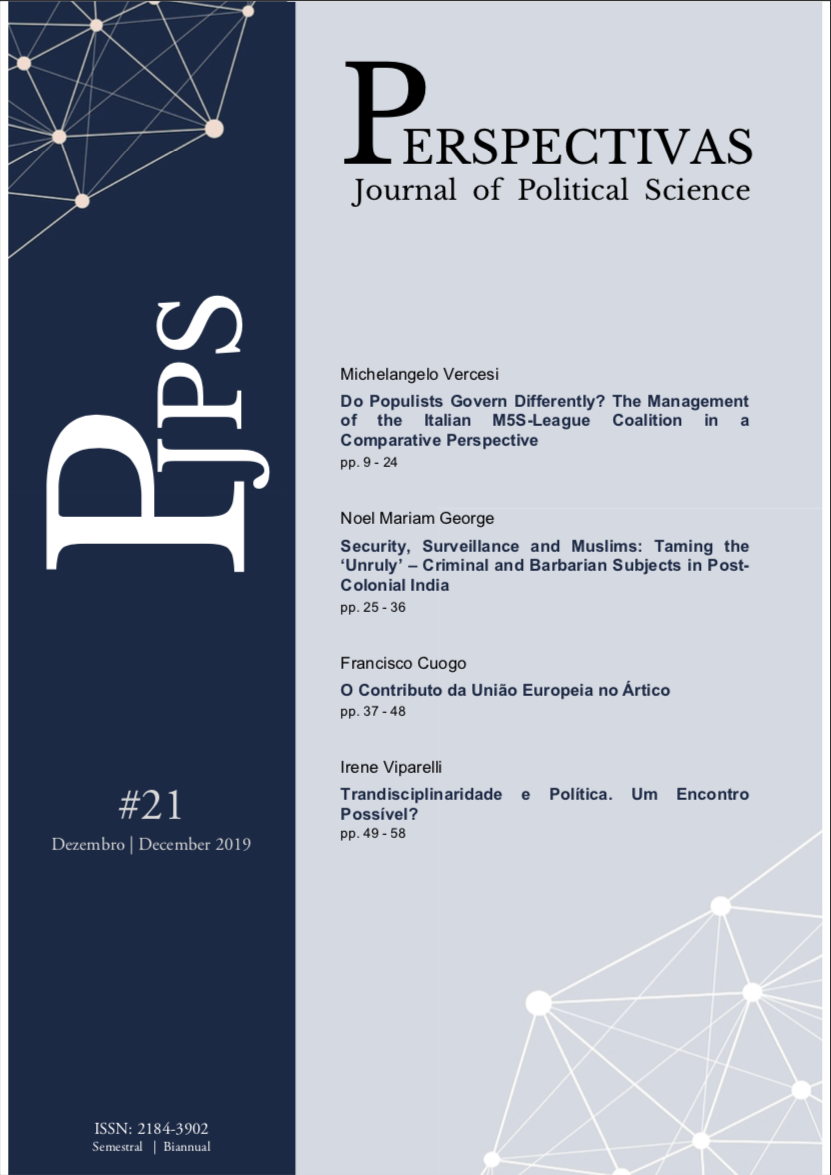 Downloads
How to Cite
Araújo, J. F. (2019). Joined-Up Governance at Local Level: A Governação Conjunta ao Nível Local. Perspectivas - Journal of Political Science, 21, 64-73. https://doi.org/10.21814/perspectivas.139
License
This work is licensed under a Creative Commons Attribution-NonCommercial 4.0 International License.
Authors must be sure that they have permission to reproduce copyright material, prior to submitting their articles to this Journal.
Authors must secure permission if they have permission to reproduce figures, tables, or any extract from the text of another source. This applies to direct reproduction as well as to any derivative reproduction.
In assigning copyright, authors retain their right to use their own material elsewhere, provided that the Journal is acknowledged as the original place of publication, and the Editorial Team is notified in writing in advance.
Further information on copyright policy please contact info@perspectivasjournal.com