Security, Surveillance and Muslims
Taming the 'unruly' – Criminal and Barbarian subjects in Post-colonial India
Keywords:
Ethno-nationalism, Biopolitics, Securitisation, Governmentality
Abstract
Colonial administrative apparatus maintained sovereignty through 'secular' indirect rule in India. Surveillance, Securitisation and Codification based on orientalized assumptions of 'difference' produced the Hindu majority. Scholarship that set Colonialism as binary opposite to Nationalism did not detail the nuances of colonial encounter. Colonial sovereign defined subjects as 'unruly' (barbarians) to exclude from the political order while at the same time co-opted certain myths of Caste Hindus to redefine European origin story as Aryan. Sovereign power in postcolonial India as a reproduction of the colonial sovereign defines the unruly (criminal Muslims) through criteria of exclusion that make exceptions to reconstitute its power as a Hindu sovereign.
Resumo
O sistema administrativo colonial manteve a sua soberania através do governo indireto "secular" na Índia. Vigilância, securitização e codificação com base em suposições orientalizadas de 'diferença' produziram a maioria hindu. A bolsa de estudos que definia o colonialismo como o oposto binário ao nacionalismo não detalhava as nuances do encontro colonial que sistematizavam o pensamento bramínico. A soberania colonial definiu os indivíduos como "indisciplinados" (bárbaros) para os excluir da ordem política e, ao mesmo tempo, cooptou os mitos hindus das castas para redefinir a história da origem europeia como ariana. O poder soberano na Índia pós-colonial surge como uma reprodução do soberano colonial que define os indisciplinados (muçulmanos criminosos) usando de critérios de exclusão que abrem exceções para reconstituir seu poder como soberano hindu.
Downloads
Download data is not yet available.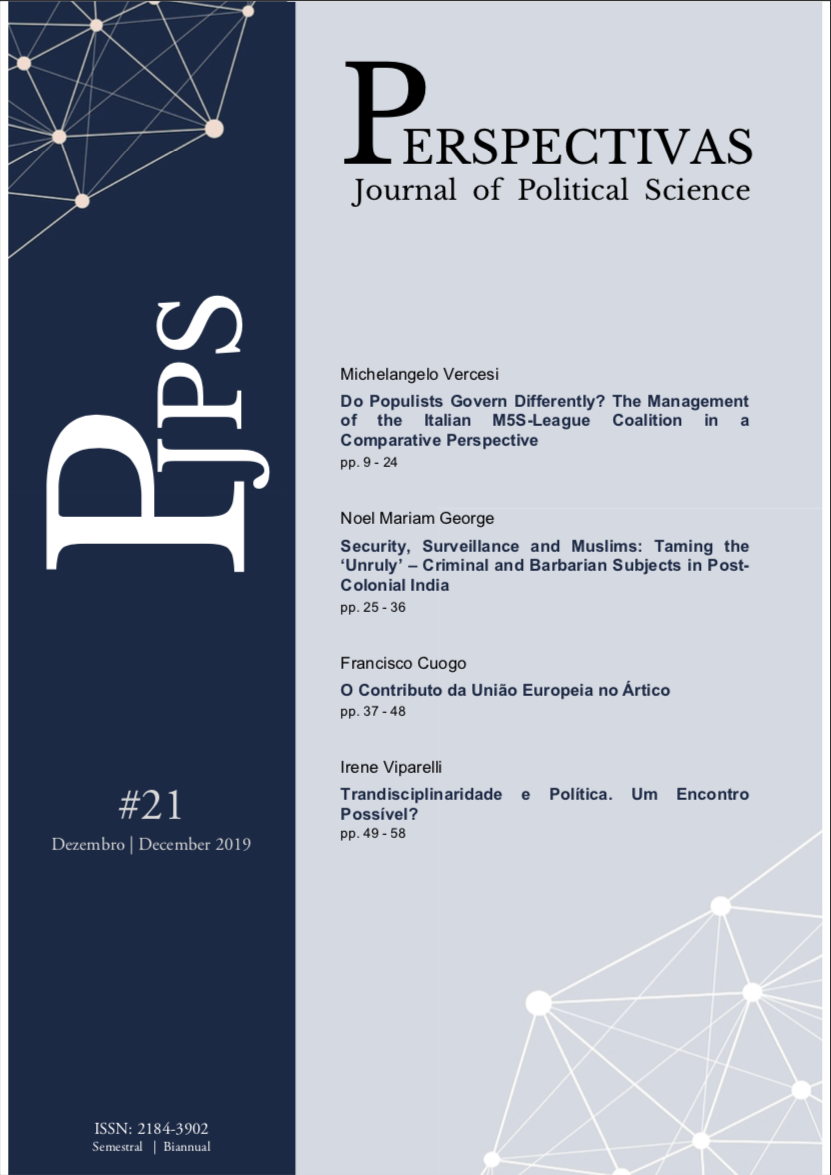 Downloads
How to Cite
George, N. M. (2019). Security, Surveillance and Muslims: Taming the 'unruly' – Criminal and Barbarian subjects in Post-colonial India. Perspectivas - Journal of Political Science, 21, 25-36. https://doi.org/10.21814/perspectivas.2512
License
Authors must be sure that they have permission to reproduce copyright material, prior to submitting their articles to this Journal.
Authors must secure permission if they have permission to reproduce figures, tables, or any extract from the text of another source. This applies to direct reproduction as well as to any derivative reproduction.
In assigning copyright, authors retain their right to use their own material elsewhere, provided that the Journal is acknowledged as the original place of publication, and the Editorial Team is notified in writing in advance.
Further information on copyright policy please contact info@perspectivasjournal.com