Crisis política de la Unión Europea: pensamiento tecnócrata y posibilidades de un ethos europeo alternativo
Political crisis of the European Union: technocratic thinking and possibilities of a European ethos
Keywords:
Unidad Europea, Tecnocracia, Liberalismo
Abstract
This text aims to address the problem of the political vacuum in a Europe in crisis. It starts from the ideological assumptions that underlie political modernity and its aporias, seeing in some of them absolute impossibilities that do not allow the fulfilment of others. Thus, starting from critical diagnoses, on a political-philosophical basis, it examines some solutions coming from the thought of Habermas, leaving aside institutionalist and functionalist explanations, rather opting for a normative analysis.
Resumen
Este texto pretende abordar el problema del vacío político en una Europa en crisis. Parte de los supuestos ideológicos que subyacen a la modernidad política y sus aporías, viendo en algunos de ellos imposibilidades absolutas que no permiten cumplir otros. Así, partiendo de diagnósticos críticos, sobre una base político-filosófica, y ético-política, examina algunas soluciones que provienen del pensamiento de Habermas, dejando de lado las explicaciones institucionalistas y funcionalistas, pronunciándose más bien por un análisis normativo.
Downloads
Download data is not yet available.
References
Bolaffi, Angelo. 2014. Cuore Tedesco. Il modelo Germania, l'Italia e la crisi europea. Roma: Donzelli Ediciones.
Braudel, Fernand. 2000. "Les Civilisations Européennes". In Europes, editado por Yves Hersant, and Fabienne Durand- Bogaert. Paris: Robert Laffont.
Chabot, Jean-Luc. 2011. Fondements Théoriques du Politique. Paris: L'Harmattan.
Coll, Ferran Requejo. 2008. Las Democracias. Barcelona: Ariel.
Devoldere, Luc. 2013. En attendant les Barbares. Québec: L'Instant même.
Domenèch, Antoni. 1989. De la Ética a la Política. Barcelona: Ediciones Crítica.
Dussouy, Gérard. 2013. Contre l'Europe de Bruxelles – Fonder un État européen. Paris: Tatamis Éditions.
Duverger, Maurice. 1972. Janus – les deux faces de l'Occident. Paris: Fayard.
Duverger, Maurice. 1990. Le lièvre liberal et la tortue européenne. Paris: Albin Michel.
Eisfeld, Rainer. 1976. Il Pluralismo tra Liberalismo e Socialismo. Bologna: Il Mulino.
Enríquez, Eugène. 1983. De la Horde à l'État. Paris: Gallimard.
Ferrajoli, Luigi. 2011. Poderes salvajes. La crisis de la democracia constitucional. Madrid: Trotta.
Ferrara, Gianni. 2006. La Costituzione: Dal pensiero politico alla norma giuridica. Milano: Feltrinelli
Ferrarese, Maria Rosaria. 2001. Le istituzioni della globalizzazione. Bologna: Il Mulino.
García-Pelayo, Manuel. 1974. Burocracia y Tecnocracia. Madrid: Alianza Ediciones.
Gauchet, Marcel. 2007. L'Avènement de la Démocratie. Paris: Gallimard.
Häberle, Peter. 2016. Per una Dottrina della Costituzione come Scienza della Cultura. Roma: Carocci.
Habermas, Jürgen. 1996. La Paix Perpétuelle. Le bicentenaire d'une idée kantienne. Paris: Éditions du Cerf.
Habermas, Jürgen. 2000. Après l'État-nation. Paris: Fayard.
Habermas, Jürgen. 2004. "Construcción de una identidad política europea." In Europa en construcción. Integración, identidades y seguridad, editado por Narcís Serra. Barcelona: Fundació CIDOB.
Habermas, Jürgen. 2006. El Occidente Escindido. Madrid: Trotta.
Habermas, Jürgen. 2008. El derecho internacional en la transición hacia un escenario posnacional. Buenos Aires: Katz.
Habermas, Jürgen. 2009. ¡Ay, Europa! Madrid: Trotta. [24] Habermas, Jürgen. 2012. Um ensaio sobre a Constituição da Europa. Lisboa: Edições 70.
Habermas, Jürgen. 2014. Nella spirale tecnocrática. Roma-Bari: Laterza.
Habermas, Jürgen. 1978a. La Technique et la Science comme Idéologie. Paris: Gonthier.
Habermas, Jürgen. 1978b. Raison et Légitimité. Problèmes de légitimation dans le capitalisme avancé. Paris: Payot.
Habermas, Jürgen. 1975. Théorie et Pratique. Paris: Payot.
Habermas, Jürgen. 1987. Théorie de l'Agir Communicationnel. II – Pour une critique de la raison fonctionnaliste. Paris: Fayard.
Habermas, Jürgen. 2012. "Les dilemmes de la démocratie: l'exemple de la crise actuelle de l'Union européenne." In Refaire l'Europe avec Jürgen Habermas, editado por Yves Charles Zarka. Paris: Presses Universitaires de France.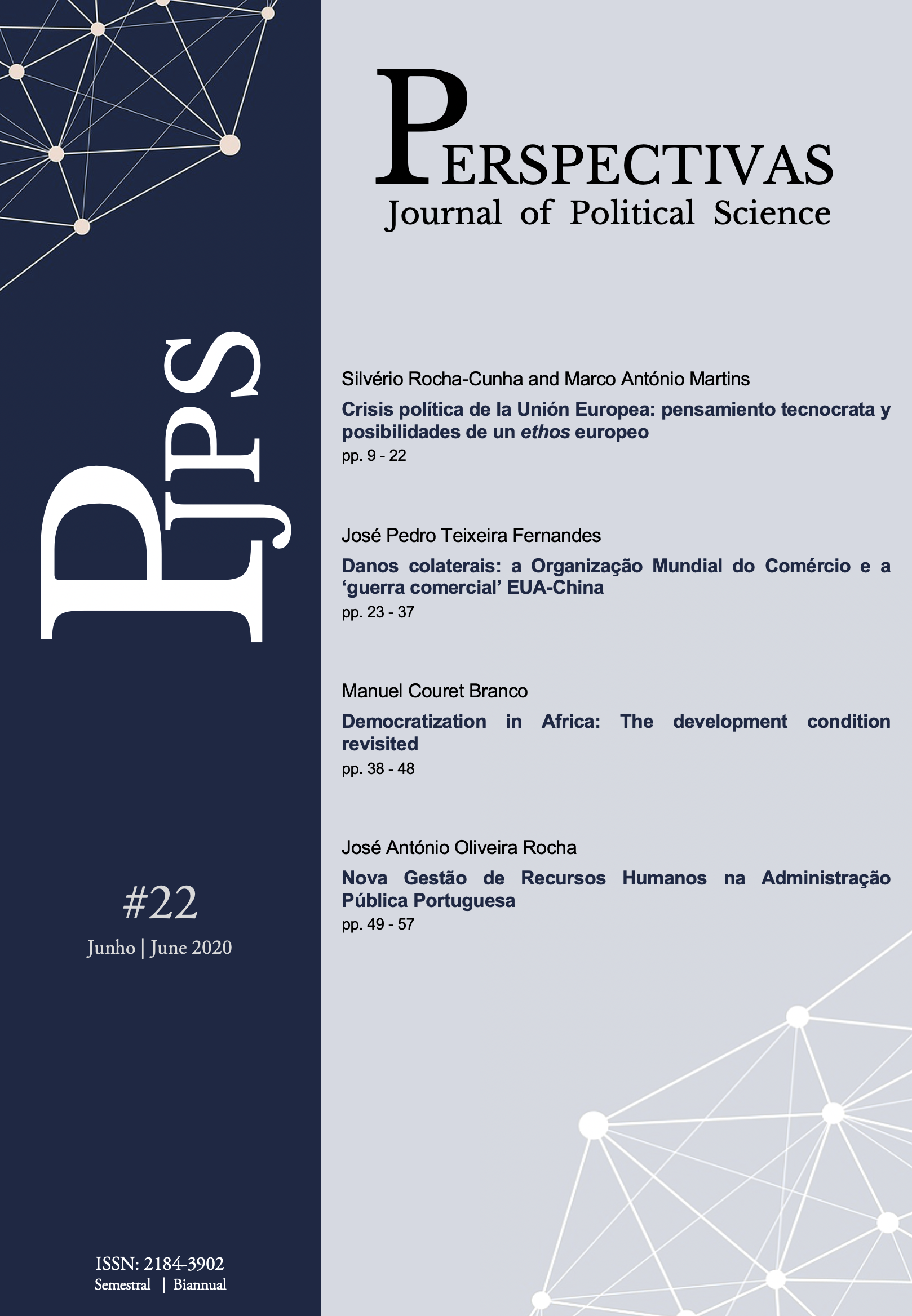 Downloads
How to Cite
Rocha-Cunha, S., & Martins, M. A. (2020). Crisis política de la Unión Europea: pensamiento tecnócrata y posibilidades de un ethos europeo alternativo: Political crisis of the European Union: technocratic thinking and possibilities of a European ethos. Perspectivas - Journal of Political Science, 22, 10-23. https://doi.org/10.21814/perspectivas.2522
License
Copyright (c) 2020 Perspectivas - Journal of Political Science
This work is licensed under a Creative Commons Attribution-NonCommercial 4.0 International License.
Authors must be sure that they have permission to reproduce copyright material, prior to submitting their articles to this Journal.
Authors must secure permission if they have permission to reproduce figures, tables, or any extract from the text of another source. This applies to direct reproduction as well as to any derivative reproduction.
In assigning copyright, authors retain their right to use their own material elsewhere, provided that the Journal is acknowledged as the original place of publication, and the Editorial Team is notified in writing in advance.
Further information on copyright policy please contact info@perspectivasjournal.com