Do Populists Govern Differently? The Management of the Italian M5S-League Coalition in Comparative Perspective
Keywords:
Coalition governance, Populism, Italian Government, Five Star Movement, League
Abstract
In West European context, the first fully-fledged populist government that entered office in Italy in 2018 (Conte I) has been presented as a peculiar case. After discussing party dilemmas within coalitions, the article analyses – in comparative perspective – how the two partners M5S and League managed inter-party relations despite their divergent policy preferences. The work focuses on both structural and dynamic mechanisms of coalition governance. Particular attention is paid to the coalition agreement, which is compared to the benchmark case of the German Merkel IV cabinet. Findings show that the Conte I cabinet diverged from the Italian tradition, but approached other European models, despite its rhetoric of exceptionality. Yet, poor definition of policy goals and ambiguous governance mechanisms are observed.
Resumo
No contexto da Europa Ocidental, o primeiro governo populista de pleno direito que entrou em funções na Itália em 2018 (Conte I) foi apresentado como um caso peculiar. Após discutir os dilemas partidários dentro das coligações, o artigo analisa - em perspectiva comparativa - como os dois parceiros M5S e Liga geriram as relações interpartidárias apesar das suas preferências políticas divergentes. O trabalho centra-se tanto nos mecanismos estruturais como dinâmicos de governação da coligação. É dada especial atenção ao acordo da coligação, que é comparado com o caso de referência do gabinete alemão Merkel IV. Os resultados mostram que o gabinete Conte I divergiu da tradição italiana, mas abordou outros modelos europeus, apesar da sua retórica de excepcionalidade. No entanto, observa-se uma má definição dos objetivos políticos e mecanismos ambíguos de governança.
Downloads
Download data is not yet available.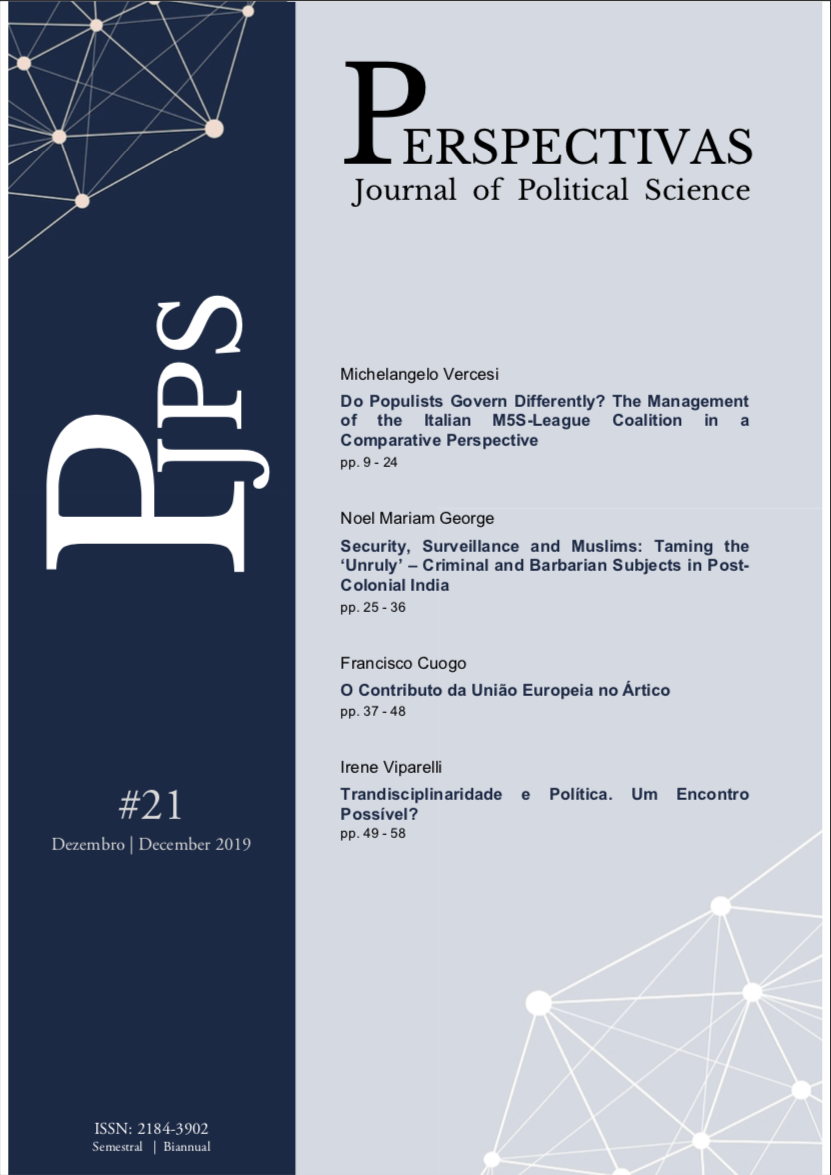 Downloads
How to Cite
Vercesi, M. (2019). Do Populists Govern Differently? The Management of the Italian M5S-League Coalition in Comparative Perspective. Perspectivas - Journal of Political Science, 21, 9-24. https://doi.org/10.21814/perspectivas.2557
License
Authors must be sure that they have permission to reproduce copyright material, prior to submitting their articles to this Journal.
Authors must secure permission if they have permission to reproduce figures, tables, or any extract from the text of another source. This applies to direct reproduction as well as to any derivative reproduction.
In assigning copyright, authors retain their right to use their own material elsewhere, provided that the Journal is acknowledged as the original place of publication, and the Editorial Team is notified in writing in advance.
Further information on copyright policy please contact info@perspectivasjournal.com