A Organização Mundial do Comércio e a 'guerra comercial' EUA-China
Keywords:
OMC, EUA, China, Guerra Comercial, Resolução de Litígios
Abstract
A 'trade war' between the two biggest state trade powers (the USA and China) has broken out in recent years, causing negative effects on international trade. In this context, the main purpose of this article is to try to understand how the USA-China trade conflict undermines the WTO. To answer this objective, a qualitative methodology based on documentary research and complementary with a resource to the scientific literature relevant to this theme was used. Empirical studies were also used to obtain quantitative data on international commercial disputes. Regarding the analysis, it was structured as follows. A first point deals with the formation of the contemporary global trading system. A second point with the transformation of the initial optimism about the WTO into a growing skepticism. In a third point is discussed the impact that China's accession to the WTO has had on the loss of Euro-American attraction for global multilateral trade agreements. In the last sections, both the repercussions of the US-China 'trade war' on the Dispute Settlement Body and the use of the security exception are analyzed. The paper ends with a brief reflection on how the problems and trends identified are projected into the future of the WTO and global trade.
Resumo
ma 'guerra comercial' entre os EUA e a China eclodiu nos últimos anos. O principal objectivo deste artigo é tentar compreender a forma como o conflito comercial EUA-China se projecta na OMC. Na análise foi usada uma metodologia de tipo qualitativo assente numa pesquisa documental e num recurso selectivo à literatura científica relevante para a temática. Foram ainda usados alguns estudos empíricos para obtenção de dados quantitativos sobre litígios comerciais internacionais. Quanto à análise, foi estruturada da seguinte forma. Um primeiro ponto aborda a formação do sistema comercial global contemporâneo. Em seguida é analisada a transformação do optimismo inicial sobre a OMC num crescente cepticismo. É ainda discutido o impacto que a adesão da China à OMC teve na perda de atracção euro-americana pela organização. Nos pontos subsequentes são analisadas as repercussões da 'guerra comercial' EUA-China no Órgão de Resolução de Litígios e o uso da excepção de segurança. A análise termina com uma breve reflexão sobre a forma como os problemas e as tendências identificados se projectam no futuro da OMC e do comércio global.
Downloads
Download data is not yet available.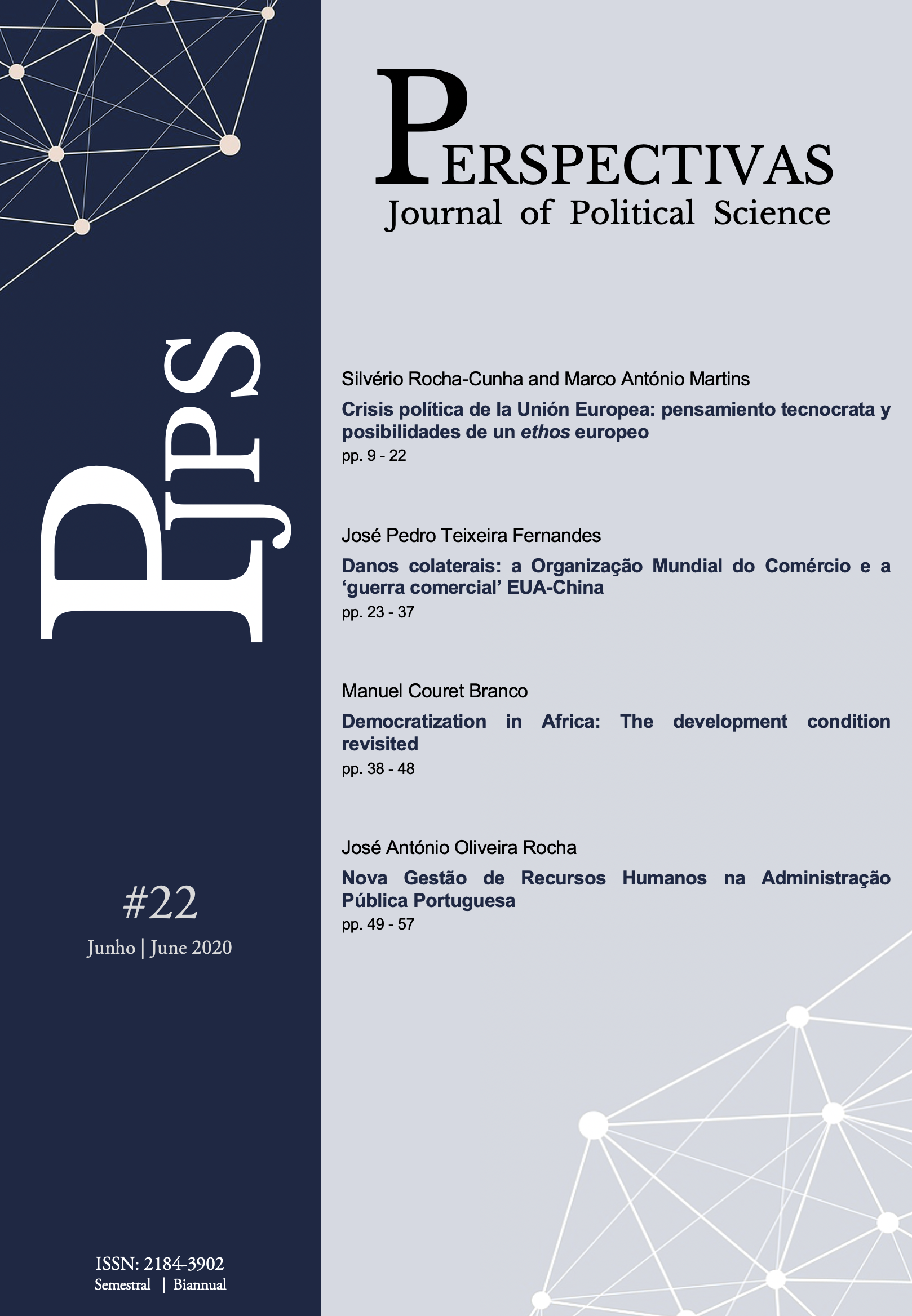 Downloads
How to Cite
Fernandes, J. P. T. (2020). A Organização Mundial do Comércio e a 'guerra comercial' EUA-China. Perspectivas - Journal of Political Science, 22, 24-38. https://doi.org/10.21814/perspectivas.2622
License
Copyright (c) 2020 Perspectivas - Journal of Political Science
This work is licensed under a Creative Commons Attribution-NonCommercial 4.0 International License.
Authors must be sure that they have permission to reproduce copyright material, prior to submitting their articles to this Journal.
Authors must secure permission if they have permission to reproduce figures, tables, or any extract from the text of another source. This applies to direct reproduction as well as to any derivative reproduction.
In assigning copyright, authors retain their right to use their own material elsewhere, provided that the Journal is acknowledged as the original place of publication, and the Editorial Team is notified in writing in advance.
Further information on copyright policy please contact info@perspectivasjournal.com