A importância da governação integrada do oceano para uma economia azul em Angola
The importance of integrated ocean governance for a blue economy in Angola
Keywords:
Angola; Ocean; Governance; Sea Economy; Cluster.
Abstract
The vision presented in this scientific article has the main objective of raising awareness among the main political, economic and academic decision-makers, that Angola needs a new approach to the governance of the oceans and the affairs of the sea, especially due to the current context of recession of the national economy, where the political thinking of the governance of the sea can alter the totally careless way of exercising power and exploiting the resources of the oceans. This approach was possible, through a bibliographic and documentary review, adopting a qualitative approach, through a deductive reasoning. Therefore, Angola, like other coastal states, needs to assume an integrated and three-dimensional management and exploration of sea affairs, as a national strategic design, where the building of a clustered Sea Economy will represent the hard core of governance integration of maritime spaces in Angola.
Resumo
A visão apresentada no presente artigo científico tem o principal objetivo de fomentar a consciência no seio dos principais decisores políticos, económicos e académicos, de que Angola necessita de uma nova abordagem à governança dos assuntos do mar, especialmente devido ao atual contexto de recessão da economia nacional, onde uma governação integrada dos assuntos do mar pode alterar o modo displicente de Angola exercer o poder no mar e de explorar os recursos do oceano. Esta abordagem foi possível, através de uma revisão bibliográfica e documental, adotando uma abordagem qualitativa, mediante um raciocínio dedutivo. Portanto, Angola, à semelhança de outros Estados costeiros, precisa de assumir uma gestão e exploração integrada e tridimensional dos assuntos do mar, como um desígnio estratégico nacional, onde a edificação de uma Economia azul, clusterizada, representará o núcleo duro de uma governação integrada dos espaços marítimos em Angola.
Downloads
Download data is not yet available.
References
Baker, M., 2011. Toward an African Maritime Economy—Empowering the African Union to Revolutionize the African Maritime Sector. Naval War College Review, 64 (2), pp. 38-62.
Bastos, F., 2010. A Soberania no Mar. In N. Matias, V. Soromenho-Marques e A. Leitão, (Coords.). Políticas Públicas do Mar. Lisboa: Esfera do Caos, pp.35-65.
Banco Mundial. 1992. Govemance and Developmnent. Washington: Banco Mundial.
Commission Staff Working Europe Innova. 2008. The Concept of Clusters and Cluster Policies and their role for Competitiveness and Innovation: Main Statistical Results And Lessons Learned. Europe INNOVA/PRO INNO Europe paper, 9 (outubro), pp. 1-84.
Correia, A. 2010. Portugal e os Desafios Marítimos do século XXI. Comunicação apresentada no I Congresso Nacional de Segurança e Defesa. Lisboa, 15 de Maio.
Confraria, J. 2011. Economia e política do mar. Cadernos de Economia, 24 (95): pp. 14-16.
Commonwealth Secretariat. 2016. The Blue Economy and Small States. Commonwealth Blue Economy Series, 1, pp. 1-51.
Cunha T. 2011. Portugal e o Mar. À Redescoberta da Geografia. Lisboa: Fundação Francisco Manuel dos Santos e Tiago Pitta e Cunha.
Ferro, M. 2008. O que falha quando falham os Estados. In Moreira, Adriano & Ramalho, Pinto, (Coord.). Estratégia Vol. XVII. Lisboa, Instituto Português da Conjuntura Estratégica, pp. 389-410.
Ginga, D. 2014. "Angola e a Complementaridade do Mar: o Mar como Fator Geoestratégico de Segurança, Defesa e Afirmação. Tese de doutoramento, Universidade Lusófona de Humanidades e Tecnologias de Lisboa, Lisboa.
Martín, M. 2012. "Governança Oceânica Bases estratégicas para o desenvolvimento do Mar dos Açores". Tese de doutoramento, Universidade dos Açores, Açores.
Krugman, P. Increasing returns in a comparative advantage world. In, R. Stern, R. M. (Editor). Comparative Advantage, Growth, and the gains from Trade and Globalization. London, UK: World Scientific, pp. 43-53, 2011.
Marshall, A. 1890. Principles of Economics, London: Macmillan.
Matias, N. 2009. A "Clusterização" da Economia Marítima. Nação & Defesa, 122 (4), pp. 9-23.
Olsen, S. 1993. Will Integrated Coastal Management Programs be Sustainable; the Constituency Problem. Ocean and Coastal Management, 21, pp. 201-226.
Oyelaran-Oyeyinka, B, Mccormick, D. (Eds). 2007. Industrial Clusters and Innovation Systems in Africa Institutions, Markets, and Policy. Nova Iorque: United Nations University Press, pp. 1-25.
Okonkwo, T. 2017. Maritime Boundaries Delimitation and Dispute Resolution in Africa. Beijing Law Review, 8, pp. 55-78.
Porter, M. 1998. Clusters and the new economics of competition. Harvard Business Review, 76 (6), pp. 77-90.
Ribeiro, J.. 2011. Portugal e a exploração dos oceanos. Cadernos de Economia, 95 (24), pp. 17-20.
SAER/ACL. 2009. O Hypercluster da Economia do Mar. Um domínio de potencial estratégico para o desenvolvimento da economia portuguesa. Lisboa: SaeR/ALC.
Schmitz, H. 1995. Collective Efficiency: Growth Path for Small-Scale Industry. Journal of Development Studies, 31(4), pp. 529–566.
United Nations Economic Commission for Africa [UNECA]. 2016. To order copies of Africa's Blue Economy: A policy handbook by the Economic Commission for Africa. Adis Abeba: UN Economic Commission for Africa.
UNECA. Africa's Blue Economy. 2018. Opportunities and challenges to bolster sustainable development and socioeconomic transformation. Nairobi: UNECA.
World Ocean Council [WOC]. 2018. Ocean/ Maritime Clusters: Leadership and collaboration for ocean Sustainable Development and Implementing the Sustainable Development Goals. World Ocean Council White Paper. Honolulu: WOC.
Assembleia Nacional. 2010. "Lei dos Espaços Marítimos". Lei n.º 14/10, Diário da República, I Série n.º 131, pp. 1382-396.
Assembleia Nacional. 2012. "Lei da Marinha Mercante. Portos e Atividades Conexas". Lei n.º 27/12, Diário da República, I Série n.º 166, pp. 3870-3908.
Ministério do Ambiente de Angola. 2019. Plano de Adaptação às Alterações Climáticas da Zona Costeira de Angola. Luanda: Ministério do Ambiente.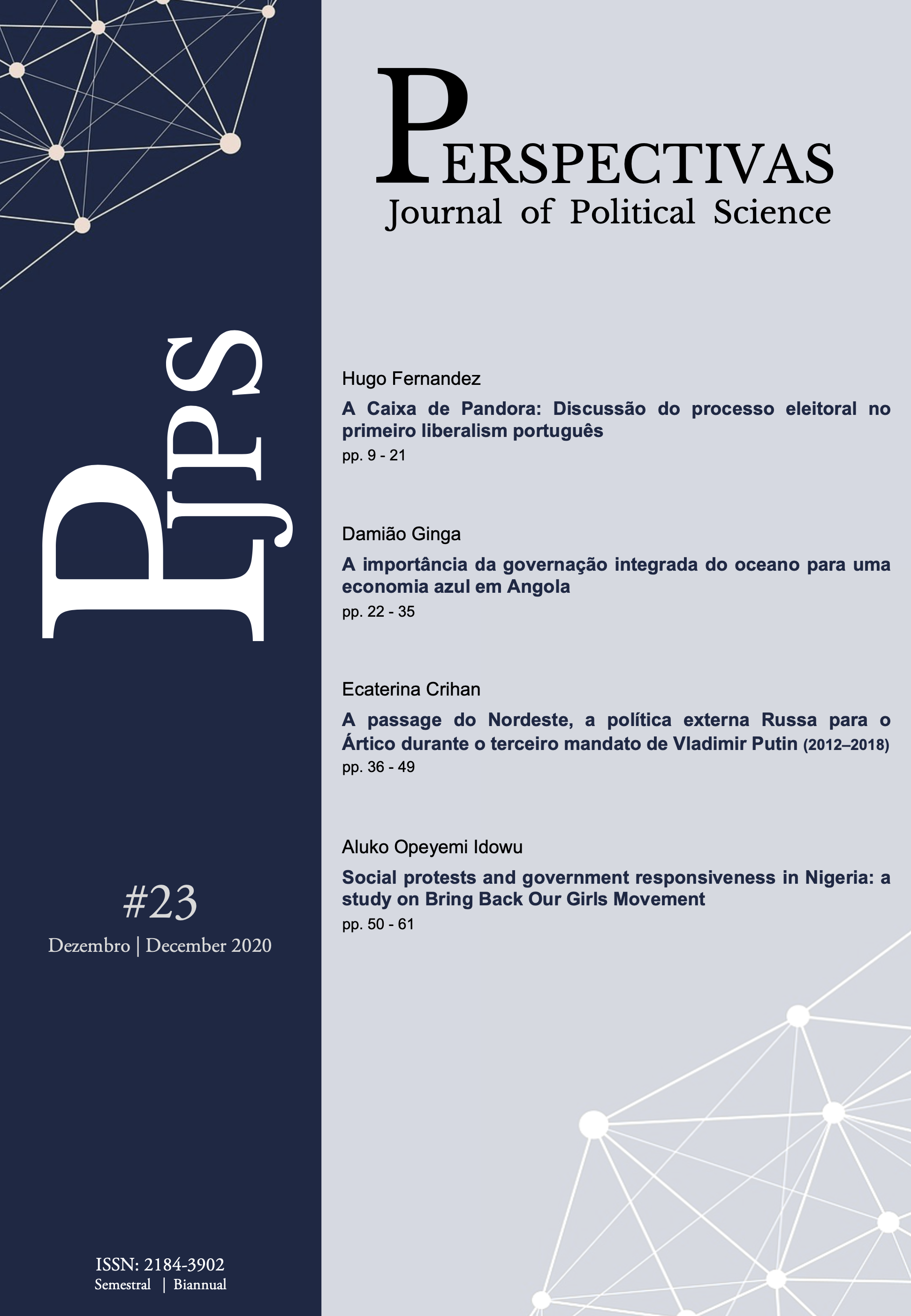 Downloads
How to Cite
Ginga, D. (2020). A importância da governação integrada do oceano para uma economia azul em Angola: The importance of integrated ocean governance for a blue economy in Angola. Perspectivas - Journal of Political Science, 23, 22 - 35. https://doi.org/10.21814/perspectivas.3058
License
Copyright (c) 2021 Perspectivas - Journal of Political Science
This work is licensed under a Creative Commons Attribution-NonCommercial 4.0 International License.
Authors must be sure that they have permission to reproduce copyright material, prior to submitting their articles to this Journal.
Authors must secure permission if they have permission to reproduce figures, tables, or any extract from the text of another source. This applies to direct reproduction as well as to any derivative reproduction.
In assigning copyright, authors retain their right to use their own material elsewhere, provided that the Journal is acknowledged as the original place of publication, and the Editorial Team is notified in writing in advance.
Further information on copyright policy please contact info@perspectivasjournal.com