Decentralization and (De)Politization in Portugal
Descentralização e (Des)Politização em Portugal
Keywords:
Decentralization, Portugal, Reform, Relations of power
Abstract
The decentralization is one of the most common features in the contemporary political world. It seems that the idea of centralizing the power in the state apparatus is out of fashion and the new idea is to transfer some competences of the state for the local power. In a globalized world where the state is losing its ground in the political arena, international organizations in the last decades are pushing towards a New Public Management where the state has delegated great part of his competences. Tactics like that are being analyzed by many scholars who give different responses to the matter. This paper develops an analysis of what is happening in Portugal since 2015 in terms of decentralization, adopting a government strategy position and Foucault's theory of governmentality.
Resumo
A descentralização é uma das características mais comuns no mundo político contemporâneo. É aparente que a ideia de centralizar o poder no aparato estatal encontra-se fora de moda e a nova ideia é a transferência de algumas competências do Estado para o poder local. Num mundo globalizado em que o Estado perde terreno na arena política, as organizações internacionais nas últimas décadas estão a avançar em direção a uma nova gestão pública, na qual o Estado delegou grande parte de suas competências. Táticas como esta estão em análise por vários investigadores que dão respostas diferentes ao assunto. Este artigo desenvolve uma análise do que está a ocorrer em Portugal desde 2015 em termos de descentralização, adotando uma posição estratégica do governo e a teoria da governamentalidade de Foucault.
Downloads
Download data is not yet available.
References
Almeida, Maria Antónia Pires de. 2007. Party politics in Portugal: municipalities and central government. Centro de Investigação de estudos de sociologia, ISCTE. https://ecpr.eu/Filestore/PaperProposal/6f2d30d4-fd1c-4fd8-b0f5-4f35706ef0ec.pdf (last accessed May 2019)
Almeida, Maria Antónia Pires de. 2013. O Poder Local do Estado Novo à Democracia: Presidentes de câmara e governadores civis, 1936-2012. Lisbon: ebook.
Almeida, Pedro Tavares de, and Rui Miguel C. Branco.2007. Burocracia, Estado e Território: Portugal e Espanha (séculos XIX-XX). Lisbon : Livros Horizonte.
Baguenard, Jacques. 1980. La Décentralisation territoriale. Paris : Presses Universitaires de France.
Ballesteros, Beatriz Cuadrado, Isabel M. García Sánchez, and José M. Prado Lorenzo. 2013. "The Impact of Political Factors on Local Government Decentralisation." International Public Management Journal 16(1): 53–84.
Barreto, António. 1984. "Estado central e descentralização: antecedentes e evolução (1974-1984) - Classe e Estado, Sindicatos na reforma agrária." Análise Social XX: 121-217
Bartling, Björn, and Urs Fischbacher. 2011. "Shifting the Blame: On Delegation and Responsibility." Review of Economic Studies 79(1): 67–87.
Bieler, Andreas, Werner Bonefeld, Peter Burham, and Adam David Burnham. 2006. Global Restructuring, State, Capital and Labour Contesting Neo-Gramscian Perspectives. New York: Palgrave Macmillan.
Bourdieu, Pierre. 2002. "Against the Policy of Depoliticization." Studies in Political Economy 69(1): 31-41.
Buller, Jim, Pinar E. Dönmez, Adam Standring, and Matthew Wood. 2019. Comparing Strategies of (De)Politicisation in Europe: Governance, Resistance and Anti-politics. Palgrave Macmillan.
Burki, Shahid Javed., Guillermo Perry, and William R. Dillinger. 1999. Beyond the Center: Decentralizing the State World Bank Latin American and Caribbean Studies. Washington D.C.: World Bank.
Burnham, Peter. 2000. "Globalisation, Depoliticisation and 'Modern' Economic Management." In The Politics of Change: Globalisation, Ideology and Critique, edited by Werner Bonefeld and Kosmas Psychopedis. London: Palgrave.
Burnham, Peter. 2001. "New Labour and the politics of depoliticization." British Journal of Politics and International Relations 3(2): 127–149.
Câmara Municipal do Porto. 2017. "Rui Moreira antecipa debate da descentralização e lança avisos ao Governo", last accessed March 15, 2019. http://www.cm-porto.pt/noticias/rui-moreira-antecipadebate-da-descentralizacao-e-lanca-avisos-ao-governo
Carrapato, Júlio Filipe de Almeida. 1979. Descentralização e regionalização. Vila Real de Santo António: Litográfica do Sul.
Christensen, Tom, and Per Laegrid. 2006. Autonomy and Regulation: Coping with Agencies in the Modern State (Comparative Studies of Organizations in the Public Sector). Edward Elgar Publishing.
Comissão de Apoio à Reestruturação do Equipamento e da Administração do Território. 1998. Descentralização, Regionalização e Reforma Democrática do Estado. Lisbon: MEPAT, CAREAT.
Conyers, Diana. 1984. "Decentralization and development: a review of the literature." Public Administration and Development 4(2): 187-197.
Conyers, Diana. 1983. "Decentralization: the latest fashion in development administration?" Public Administration and Development 3(2): 97-109.
Crozier, Michel, Samuel Huntington, and Joji Watanuki. 1975. The crisis of Democracy: Report on the Governability of Democracies to the Trilateral Commission. New York:
New York University Press.
Dalton, Russell J. 2004. Democratic Challenges, Democratic Choices: The Erosion of Political Support in Advanced Industrial Democracies. USA: Oxford University Press.
Diário de Notícias. 2018. "Descentralização debatida em cimeira de áreas metropolitanas de Lisboa e do Porto", Diário de Notícias, March 19. https://www.dn.pt/lusa/interior/descentralizacao-debatida-em-cimeira-de-areasmetropolitanas-de-lisboa-e-do-porto-9198739.html
Dillinger, William, and Marianne Fay. 1999. "From Centralized to Decentralized Governance." Finance and Development 36(4): 19.
Duarte, Bruna A. Marques. 2016. "Descentralização Administrativa: Novos Caminhos, Novas Realidades." Master's dissertation, University of Lisbon, Portugal.
ECO. 2019. "Rui Moreira defende «regionalização política» para descentralizar", ECO, January.
https://eco.sapo.pt/2019/01/29/rui-moreira-defenderegionalizacao-politica-para-descentralizar/.
Escobar-Lemmon. Maria. 2006. "Executives, Legislatures, and Decentralization." Policy Studies Journal 34(2): 245–63.
Fernandes, José Alberto Rio. 2006. "Reestruturação da administração territorial portuguesa: o duplo centralismo em busca de escalas intermédias." Xeográfica, Revista de Xeografía, Território e Medio Ambiente 6: 95-113.
Fesler, James. 1965. "Approaches to the Understanding of Decentralization." The Journal of Politics 27(3): 536-566.
Foucalt, Michel. 1979. Microfísica do Poder. Rio de Janeiro: Edições Graal:277-292.
Foucalt, Michel. 2009. Security, Territory, Population: Lectures at the College De France, 1977–78. UK: Palgrave Macmillan United Kingdom.
Frey, Klaus. 2000. "Descentralização: Lições atuais de Tocqueville." Lua nova 51: 77-118
Hutchcroft, Paul D. 2001. "Centralization and Decentralization in Administration and Politics: Assessing Territorial Dimensions of Authority and Power." Governance: An International Journal of Policy and Administration 14(1).
John, Peter. 2001. Local Governance in Western Europe. SAGE Publications.
Kettl, Donald F. 2005. The Global Public Management Revolution. Washington D.C.: Brookings Institution Press.
Khan, Shadiullah. 2008. "Local Governments and Local Elites." Local Government Studies 34(4): 509–28.
Lefèvre, Christian. 2010. "The Improbable Metropolis: Decentralization, Local Democracy and Metropolitan Areas in the Western World." Análise Social 45(197): 623-637.
Machado, J. Baptista. 1982. Participação e Descentralização: Democratização e Neutralidade na Constituição de 76. Lisbon: Almedina.
Magone, José M. 2010. "Portugal: local democracy in a small centralized Republic." In The Oxford handbook of local and regional democracy in Europe. UK: Oxford Handbooks Online.
Manor, James. 1999. The Political Economy of Democratic Decentralization. World Bank.
Mortensen, Peter B. 2013. "(De-)Centralisation and Attribution of Blame and Credit." Local Government Studies 39(2): 163–81.
Moury, Catherine, and Adam Standring. 2017. "'Going beyond the Troika': Power and discourse in Portuguese austerity politics." European Journal of Political Research 56(3): 660-679.
Nanetti, Raffaella Y., Helena Rato, and Miguel Rodrigues. 2004. "Institutional capacity and reluctant decentralization in Portugal: the Lisbon and Tagus Valley Region." Regional Federal Studies 14(3): 405-429.
Norris, Pippa. 1999. Critical Citizens: Global Support for Democratic Government. Oxford: Oxford University Press.
O'Neill, Kathleen. 2003. "Decentralization as an Electoral Strategy." Comparative Political Studies 36(9): 1068-1091.
Observador. 2018. "Parlamento aprovou lei-quadro que descentraliza competências para os municípios",
July 28. https://observador.pt/2018/07/18/parlamentoaprovou-lei-quadro-que-descentraliza-competencias-paraos-municipios/
Oliveira, Carlos, and Isabel Breda-Vázquez. 2012. "Europeanisation of territorial policies in Portugal and Italy: a cross-national comparison." Policy Politics, The Policy Press 40(1): 89-105.
Oliveira, Carlos, and Isabel Breda-Vázquez, 2011. "Territorial Governance in Portugal: Institutional Change or Institutional Resilience?" disP - The Planning Review 47(186): 64–76.
Perk, Jamie, and Adam Tickell. 2002. Neoliberalizing Space. Oxford: Blackwell Publishers.
Persson, Torsten, Gerard Roland, and Guido Tabellini. 1997. "Separation of Powers and Political Accountability." The Quarterly Journal of Economics 112(4): 1163-1202.
Porto Canal. 2019. "Aquilo que foi proposto não é descentralização", Porto Canal, January 25. http://www.porto.pt/noticias/rui-moreira-no-portocanal-aquilo-que-foi-proposto-nao-e-descentralizacao
Putnam, Robert, and Susan Pharr. 2000. "Disaffected Democracies: What's Troubling the Trilateral Countries?" Foreign Affairs, Capsule Review.
https://www.foreignaffairs.com/reviews/capsule-review/2000-07-01/disaffecteddemocracies-whats-troublingtrilateral-countries
República Portuguesa. 2019a. "Há uma clara correlação entre a maior centralização e o menor desenvolvimento", February 12. https://www.portugal.gov.pt/pt/gc21/comunicacao/noticia?i=ha-uma-clara-correlacao-entrea-maior-centralizacao-e-o-menor-desenvolviment (last accessed March 2019.)
República Portuguesa. 2019b. "Cerca de dois terços dos municípios aderem à Descentralização", February 1. https://www.portugal.gov.pt/pt/gc21/comunicacao/noticia?i=cerca-de-dois-tercos-dos-municipios-aderem-adescentralizacao (last accessed March 2019.)
Rodríguez-Pose, Andrés, and Tselios Vassilis. 2019. "WellBeing, Political Decentralisation and Governance Quality in Europe." Journal of Human Development and Capabilities 20(1): 69–93.
RTP, 2018. "Rui Moreira diz que não há qualquer descentralização de competências para as autarquias", RTP July 13. https://www.rtp.pt/noticias/pais/ruimoreira-diz-que-nao-ha-qualquer-descentralizacao-decompetencias-para-as-autarquias_v1087385 (last accessed March 2019.)
Ruano, José Manuel, and Marius Profiroiu. 2017. The Palgrave Handbook of decentralization in Europe. Palgrave Macmillan.
Samoff, Joel. 1990. "Decentralization: The Politics of Interventionism." Development and Change 21(3): 513–30.
Scheinowitz, Abraham S. 1993. A Descentralização do Estado: Bélgica, França, Itália, Espanha, Portugal, Dinamarca, Brasil, Estados Unidos. Brasília: Editora Brasilia Juridica.
Silva, Carlos Nunes. 2017. "Political and administrative descentralization in Portugal: Four decades of democratic local government." In Local Government and Urban Governance in Europe, edited by Carlos Nunes Silva and Ján Buček. Springer International Publishing.
Silva, Patrícia, and Filipe Teles. 2019. "The Biggest Loser? Local public services under austerity measures in Portugal." In Local Public services in times of austerity across Mediterranean Europe, edited by Andrea Lippi and Theodore N. Tsekos. Palgrave Macmillan.
Silveira, Luís Nuno Espinha da. 1997. Poder Central, Poder Regional, Poder Local: uma perspectiva histórica. Edições Cosmos.
Sorens, Jason. 2009. "The Partisan Logic of Decentralization in Europe." Regional and Federal Studies 19(2): 255–72.
Sorens, Jason. 2009. "The Partisan Logic of Decentralization in Europe." Regional Federal Studies 19(2): 255-272.
Stoker, Gerry. 2003. Public Policy and Administration Transforming Local Governance: From Thatcherism to New Labour. Macmillan International Higher Education.
Tommasi, Mariano, and Frederico Weinschelbaum. 2007. "Centralization vs. Decentralization: A principal-agent analysis." Journal of Public Economic Theory 9(2): 369-389.
Treisman, Daniel. 2007. The Architecture of Government: Rethinking Political Decentralization. Cambridge: Cambridge University Press.
Vieira, Alberto. 1998. O Município no Mundo Português: Seminário Internacional. Funchal: Centro de Estudos de História do Atlântico.
Vries, Michiel S. de. 2000. "The Rise and Fall of Decentralization: A Comparative Analysis of Arguments and Practices in European Countries." European Journal of Political Research 38(2): 193–224.
World Bank. 2000. Entering the 21st Century: World Development Report 1999/2000. Oxford: Oxford University Press.
Zippelius, Reinhold. 1997. Teoria Geral do Estado. Lisbon: Fundação Calouste Gulbenkian.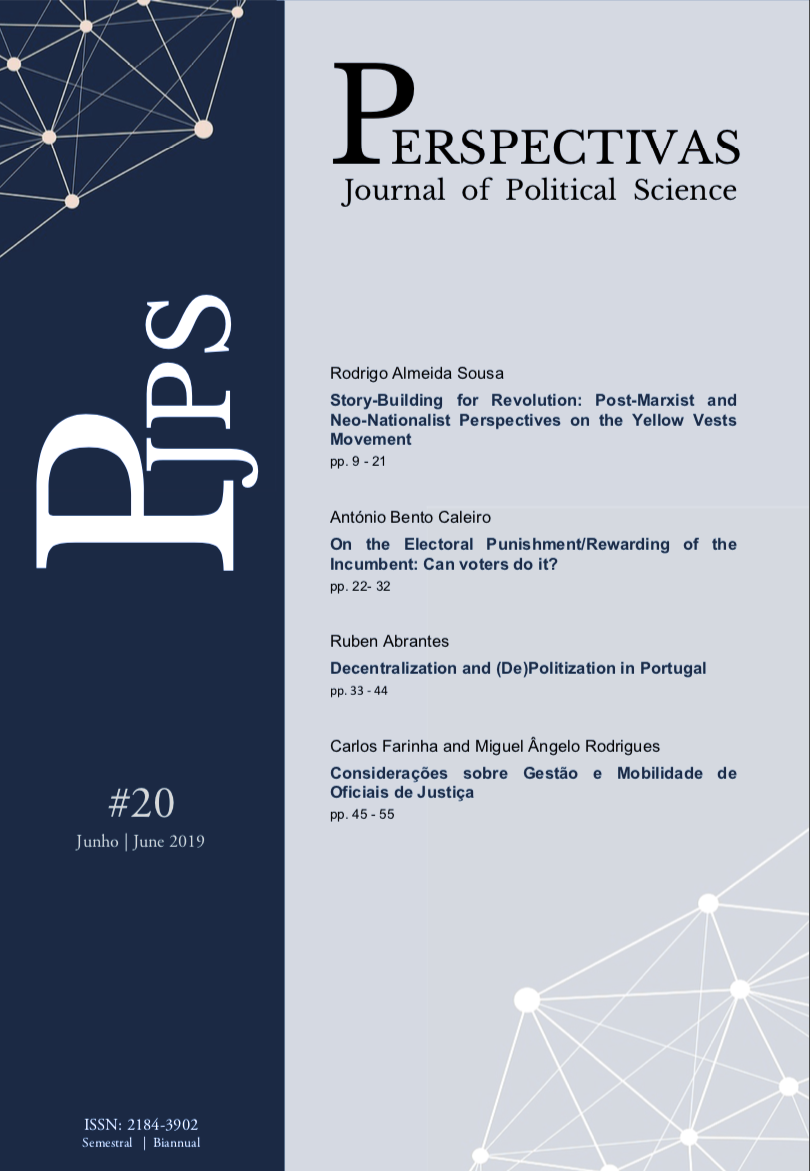 Downloads
How to Cite
Abrantes, R. D. (2019). Decentralization and (De)Politization in Portugal: Descentralização e (Des)Politização em Portugal. Perspectivas - Journal of Political Science, 20, 33-44. https://doi.org/10.21814/perspectivas.336
License
Copyright (c) 2019 Perspectivas - Journal of Political Science
This work is licensed under a Creative Commons Attribution-NonCommercial 4.0 International License.
Authors must be sure that they have permission to reproduce copyright material, prior to submitting their articles to this Journal.
Authors must secure permission if they have permission to reproduce figures, tables, or any extract from the text of another source. This applies to direct reproduction as well as to any derivative reproduction.
In assigning copyright, authors retain their right to use their own material elsewhere, provided that the Journal is acknowledged as the original place of publication, and the Editorial Team is notified in writing in advance.
Further information on copyright policy please contact info@perspectivasjournal.com