Decentralization and (De)Politization in Portugal
Descentralização e (Des)Politização em Portugal
Keywords:
Decentralization, Portugal, Reform, Relations of power
Abstract
The decentralization is one of the most common features in the contemporary political world. It seems that the idea of centralizing the power in the state apparatus is out of fashion and the new idea is to transfer some competences of the state for the local power. In a globalized world where the state is losing its ground in the political arena, international organizations in the last decades are pushing towards a New Public Management where the state has delegated great part of his competences. Tactics like that are being analyzed by many scholars who give different responses to the matter. This paper develops an analysis of what is happening in Portugal since 2015 in terms of decentralization, adopting a government strategy position and Foucault's theory of governmentality.
Resumo
A descentralização é uma das características mais comuns no mundo político contemporâneo. É aparente que a ideia de centralizar o poder no aparato estatal encontra-se fora de moda e a nova ideia é a transferência de algumas competências do Estado para o poder local. Num mundo globalizado em que o Estado perde terreno na arena política, as organizações internacionais nas últimas décadas estão a avançar em direção a uma nova gestão pública, na qual o Estado delegou grande parte de suas competências. Táticas como esta estão em análise por vários investigadores que dão respostas diferentes ao assunto. Este artigo desenvolve uma análise do que está a ocorrer em Portugal desde 2015 em termos de descentralização, adotando uma posição estratégica do governo e a teoria da governamentalidade de Foucault.
Downloads
Download data is not yet available.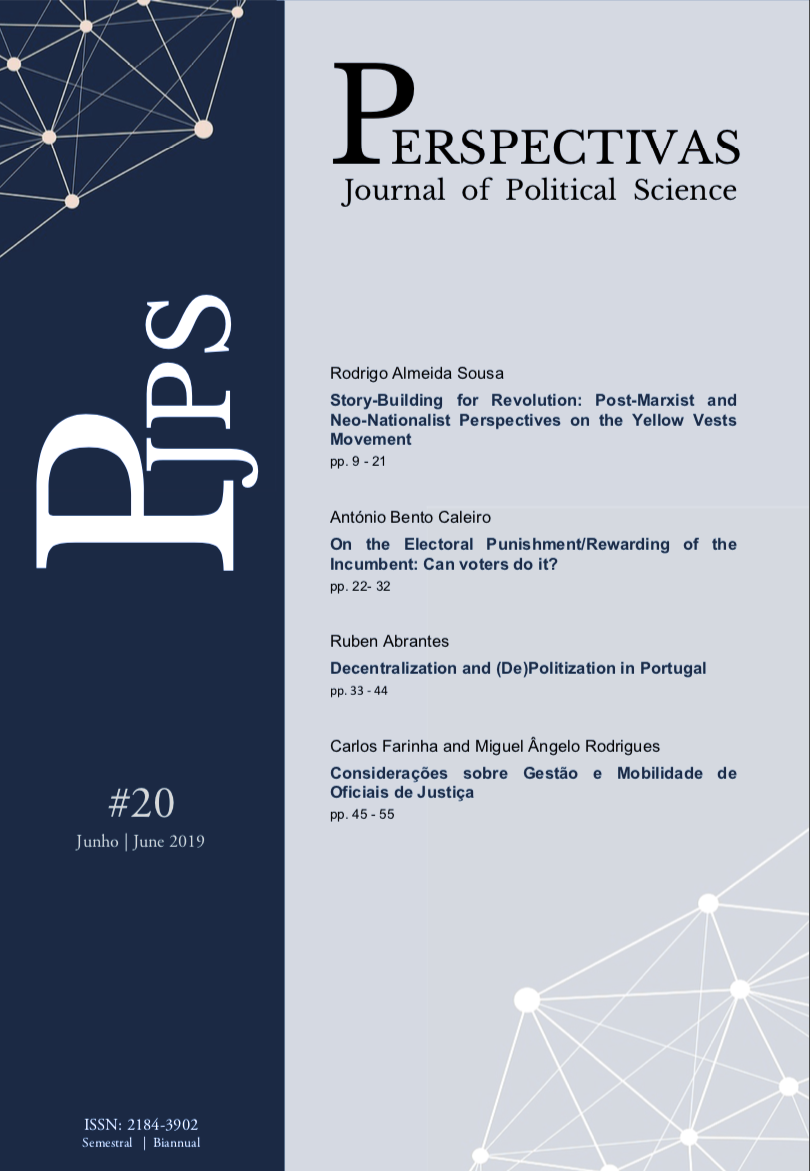 Downloads
How to Cite
Abrantes, R. D. (2019). Decentralization and (De)Politization in Portugal: Descentralização e (Des)Politização em Portugal. Perspectivas - Journal of Political Science, 20, 33-44. https://doi.org/10.21814/perspectivas.336
License
Authors must be sure that they have permission to reproduce copyright material, prior to submitting their articles to this Journal.
Authors must secure permission if they have permission to reproduce figures, tables, or any extract from the text of another source. This applies to direct reproduction as well as to any derivative reproduction.
In assigning copyright, authors retain their right to use their own material elsewhere, provided that the Journal is acknowledged as the original place of publication, and the Editorial Team is notified in writing in advance.
Further information on copyright policy please contact info@perspectivasjournal.com