Considerações sobre Gestão, Eficiência e Mobilidade de Oficiais de Justiça
Management and Mobility Considerations for Bailifs
Keywords:
Management, Flexibility, Mobility, Bailiffs
Abstract
The management model implemented in September 2014 in the justice department, favours the mobility of bailiffs, highlighting its potential of this factor in the flexible management intended for the entire judicial system. This article performs a brief reflexion about the association between the organizational management and the imperious human resources' flexibility and mobility, through mobility instruments' analyzes, of which the bailiffs are bounded, in the justice department. Analysing the legislation that supports the mobility and flexible management of bailiffs inherent to the new management model, we relate the concepts of management and mobility, which are essential for improved performance of the judicial organisation.
Resumo
O modelo de gestão implementado em Portugal no sector da justiça, em Setembro de 2014, privilegia a mobilidade dos oficiais de justiça, realçando as potencialidades deste factor na gestão flexível que se pretende para todo o sistema judicial. Este artigo efectua uma breve reflexão entre a associação existente entre gestão organizacional e a premente flexibilidade e mobilidade dos recursos humanos, analisando no sector da justiça os instrumentos de mobilidade a que estão sujeitos os oficiais de justiça. Examinando a legislação que suporta a mobilidade dos oficiais de justiça e a gestão flexível destes inerente ao novo modelo de gestão, relacionam-se os conceitos de gestão e mobilidade como essenciais para um melhor desempenho da organização judiciária.
Downloads
Download data is not yet available.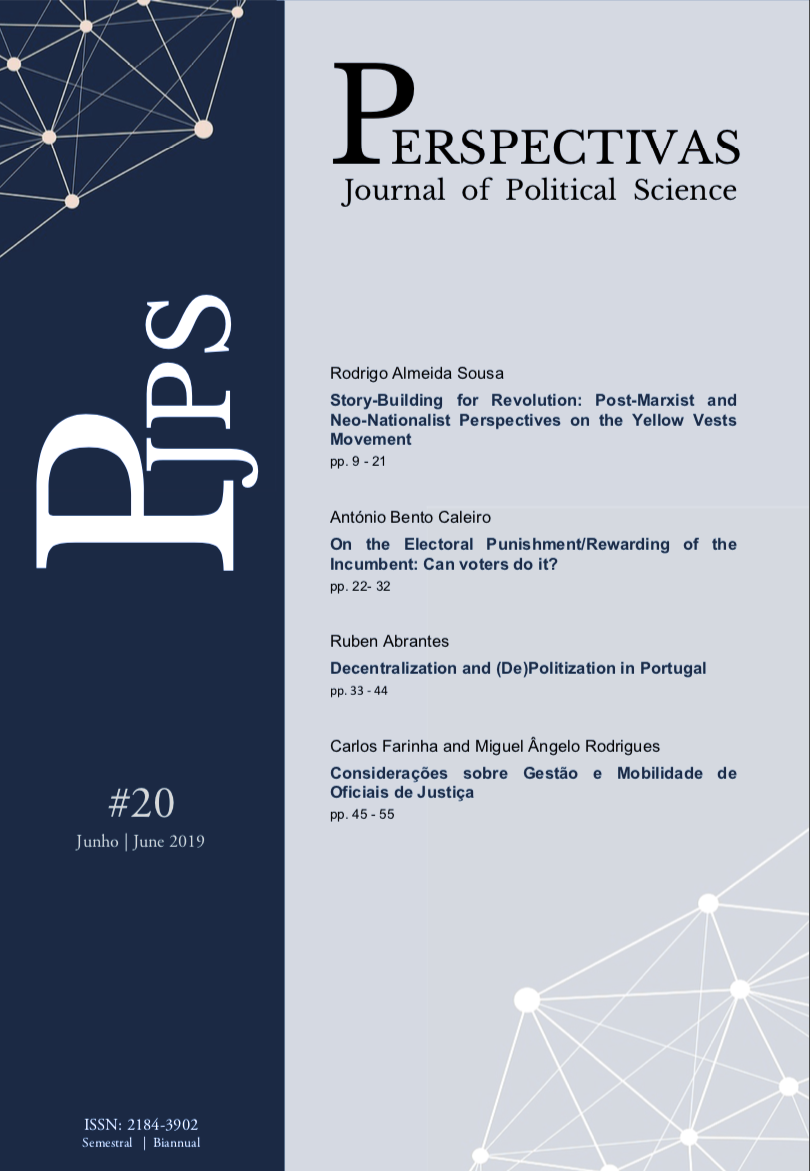 Downloads
How to Cite
Farinha, C., & Rodrigues, M. (2019). Considerações sobre Gestão, Eficiência e Mobilidade de Oficiais de Justiça: Management and Mobility Considerations for Bailifs. Perspectivas - Journal of Political Science, 20, 45-55. https://doi.org/10.21814/perspectivas.403
License
Authors must be sure that they have permission to reproduce copyright material, prior to submitting their articles to this Journal.
Authors must secure permission if they have permission to reproduce figures, tables, or any extract from the text of another source. This applies to direct reproduction as well as to any derivative reproduction.
In assigning copyright, authors retain their right to use their own material elsewhere, provided that the Journal is acknowledged as the original place of publication, and the Editorial Team is notified in writing in advance.
Further information on copyright policy please contact info@perspectivasjournal.com