Considerações sobre Gestão, Eficiência e Mobilidade de Oficiais de Justiça
Management and Mobility Considerations for Bailifs
Keywords:
Management, Flexibility, Mobility, Bailiffs
Abstract
The management model implemented in September 2014 in the justice department, favours the mobility of bailiffs, highlighting its potential of this factor in the flexible management intended for the entire judicial system. This article performs a brief reflexion about the association between the organizational management and the imperious human resources' flexibility and mobility, through mobility instruments' analyzes, of which the bailiffs are bounded, in the justice department. Analysing the legislation that supports the mobility and flexible management of bailiffs inherent to the new management model, we relate the concepts of management and mobility, which are essential for improved performance of the judicial organisation.
Resumo
O modelo de gestão implementado em Portugal no sector da justiça, em Setembro de 2014, privilegia a mobilidade dos oficiais de justiça, realçando as potencialidades deste factor na gestão flexível que se pretende para todo o sistema judicial. Este artigo efectua uma breve reflexão entre a associação existente entre gestão organizacional e a premente flexibilidade e mobilidade dos recursos humanos, analisando no sector da justiça os instrumentos de mobilidade a que estão sujeitos os oficiais de justiça. Examinando a legislação que suporta a mobilidade dos oficiais de justiça e a gestão flexível destes inerente ao novo modelo de gestão, relacionam-se os conceitos de gestão e mobilidade como essenciais para um melhor desempenho da organização judiciária.
Downloads
Download data is not yet available.
References
Bekker, Sonja. 2018. "Flexicurity in the European Semester: Still a Relevant Policy Concept?" Journal of European Public Policy 25(2): 175-192.
Bekker, Sonja, e Mikkel Mailand. 2018. "The European Flexicurity Concept and the Dutch and Danish Flexicurity Models: How Have They Managed the Great Recession?" Social Policy Administration 53: 142-155.
Bilhim, João. 2004. Qualificação e Valorização de Competências. Porto: Sociedade Portuguesa de Inovação.
Boon, Corine, Rory Eckardt, David Lepak, e Paul Boselie. 2018. "Integrating Strategie Human Capital and Strategic Human Resource Management." The International Journal of Human Resource Management 29(1): 34-67.
Bredgaard, Thomas, e Per Madsen. 2018. "Farewell Flexicurity? Danish Flexicurity and the Crisis." Transfer: European Review of Labour and Research 24(4): 375-386.
Broucker, Bruno, Kurt DeWit, e Jef Verhoeven. 2018. "Higher Education for Public Value: Taking the Debate Beyond New Public Management." Higher Education Research Development 37(2): 227-240
Carneiro, Roberto, e Telma Menicucci. 2013. "Gestão Pública no Século XXI: as Reformas Pendentes". In A Saúde no Brasil em 2030 – Prospecção Estratégica do Sistema de Saúde Brasileiro: Desenvolvimento, Estado e Políticas de Saúde, 134-194. Rio de Janeiro: Fiocruz/Ipea/Ministério da Saúde/Secretaria de Assuntos Estratégicos da Presidência da República
Christensen, Robert, Holly Goerdel, and Sean Nicholson Crotty. 2011. "Management, Law and the Pursuit of the Public Good in Public Administration." Journal of Public Administration Research and Theory 21: i125-i140.
Cox, Taylor. 1989. "Towards the Measurement of Manufacturing Flexibility." Productivity and Inventory Management 30(1): 68-72
Denhardt, Robert, e Janet Denhardt. 2000. "The New Public Service: Serving Rather than Steering." Public Administration Review 60(6): 549-559.
Diefenbach, Thomas. 2009. "New Public Management in Public Sector Organizations: the Dark Side of Managerialistic 'Enlightenment'." Public Administration 87(4): 892-909.
Farazmand, Ali. 1999. "Globalization and Public Administration." Public Administration Review 59(6): 509-522.
Garoupa, Nuno. 2014. "A Governação da Justiça e a Celeridade Processual." In Gulbenkian Conference "Afirmar o futuro – políticas públicas para Portugal". https://www.youtube.com/watch?v=4pClmquXSnw
Gerven, Minna, e Marinus Ossewaarde. 2018. "Beyond the Neoliberal Paradigm? Images of Social Europe in Open
Method of Coordination Employment Peer Reviews." Social Policy Administration 52: 1354-1366.
Gerwin, Donald. 1993. "Manufacturing Flexibility; a Strategic Perspective." Management Science 39(4): 395-410.
Gorg, Holger, Cecília Hornock, Cátia Montagna, e George Onword. 2018. "Employment Output Elasticites Reforms
Toward Flexicurity: Evidence from OECD Countries". In IZA Discussion Papers 1204. Institute of Labor Economics (IZA).
Guimarães, Tomás, Catarina Odelius, Jannan Medeiros, e João Santana. 2011. "Management Innovation of the Brazilian Superior Tribunal of Justice." The American Review of Public Administration 41(3): 297-312.
Hammerschmid, Gerard, Steven Van de Walle, Rhys Andrews, e Ahmed Mostafa. 2019. "New Public Management Reforms in Europe and Their Effects: Findings from a 20 Country Top Executive Survey." International Review of Administrative Sciences 85(3): 399-418.
Hood, Christopher. 1991. "A Public Management for All Seasons." Public Management 69: 3-19.
Hood, Christopher. 1995. "Contemporary Public Management: a New Global Paradigm." Public Policy and Administration 10(2): 104-117.
Hughes, Owen. 2003. Public Management and Administration. USA: Palgrave MacMillan.
Kathuria, Ravi, e Fariborz Partovi. 1999. "Work Force Management Practices for Manufacturing Flexibility." Journal of Operations Management (18): 21-39.
Kuperus, Herma, e Anita Rode. 2010. "More Efficient Civil Services in Times of Economic Recession and Beyond: Can a Flexicurity Approach help?" European Institute of Public Administration (1): 15-22
Madureira, César. 2011. Profissionalização e Avaliação dos Dirigentes de Topo na Administração Pública: o Caso de
Portugal. Instituto Nacional de Administração: 38–50.
Marinescu, Cristian. 2018. "Flexicurity of the Labor Market through the Formal/Informal Duality, in the Context of
Globalization." Review of International Comparative Management 19(4): 372-380.
McGaughey, Ewan. 2018. "A Human is Not Resource." King's College London Law School Research Paper 8.
Moe, Ronald, e Robert Gilmour. 1995. "Rediscovering Principles of Public Administration: the Neglected Foundation of Public Law."Public Administration Review 55(2): 135-146.
Olian, Judy, e Sara Rynes. 1984. "Organizational Staffing: Integrating Practice with Strategy." Industrial Relations 23(2): 170-183.
Peters, Guy, e John Pierre. 1998. "Governance Without Government? Rethinking Public Administration." Journal of Public Administration Research and Theory 8(2): 223-243.
Pettigrew, Andrew. 1997. "Le New Public Management Conduit à un Nouveau Módele Hybride Public-Privé." Revue Française de Gestion 115: 113-120.
Pollitt, Christopher. 2001. "Clarifying Convergence: Striking Similarities and Durable Differences in Public Management Reform. "Public Management Review 3(4): 471-492.
Pollitt, Christopher, e Geert Bouckaert. 2000. Public Management Reform: a Comparative Analysis. USA: Oxford University Press.
Pollitt, Christopher, e Geert Bouckaert. 2002. "Avaliando Reformas da Gestão Pública: Uma Perspectiva Internacional." Revista dos Serviços Públicos 53(3): 7-31.
Rocha, José. 2001. "As Relações Entre Poder Político e Funcionários". In Comunicação no Colóquio sobre o estatuto dos funcionários municipais. Lisbon: CEDREL.
Rodrigues, Miguel. 2005. "A Nova Gestão Pública na Governação Local: o Caso dos Municípios dos Distritos de Vila Real e Bragança."Master's dissertation, University of Minho, Portugal.
Sanchez, Ron. 1995. "Strategic Flexibility in Product Competition." Strategic Management Journal 16: 135-159.
Snell, Scott, Mark Shadur, e Patrick Wright. 2000. "Human Resources Strategy: The Era of Our Ways." In Working Paper Series 00-17 : 2-39. Center for Advanced Human Resource Studies.
Tuan, Luu. 2019. "HR Flexibility and Job Crafting in Public Organizations: the Roles of Knowledge Sharing and Public Service Motivation." Group Organization Management 44(3): 549-577.
Wilthagen, Ton, e Frank Tros. 2004. "The Concept of Flexicurity: a New Approach to Regulating Employment and Labour Markets." European Review of Labour and Research 10(2): 166-186.
Wright, Patrick, e Scott Snell. 1998. "Toward a Unifying Framework for Exploring Fit and Flexibility in Strategic Human Resource Management." Academy of Management Review 23(4): 756-772.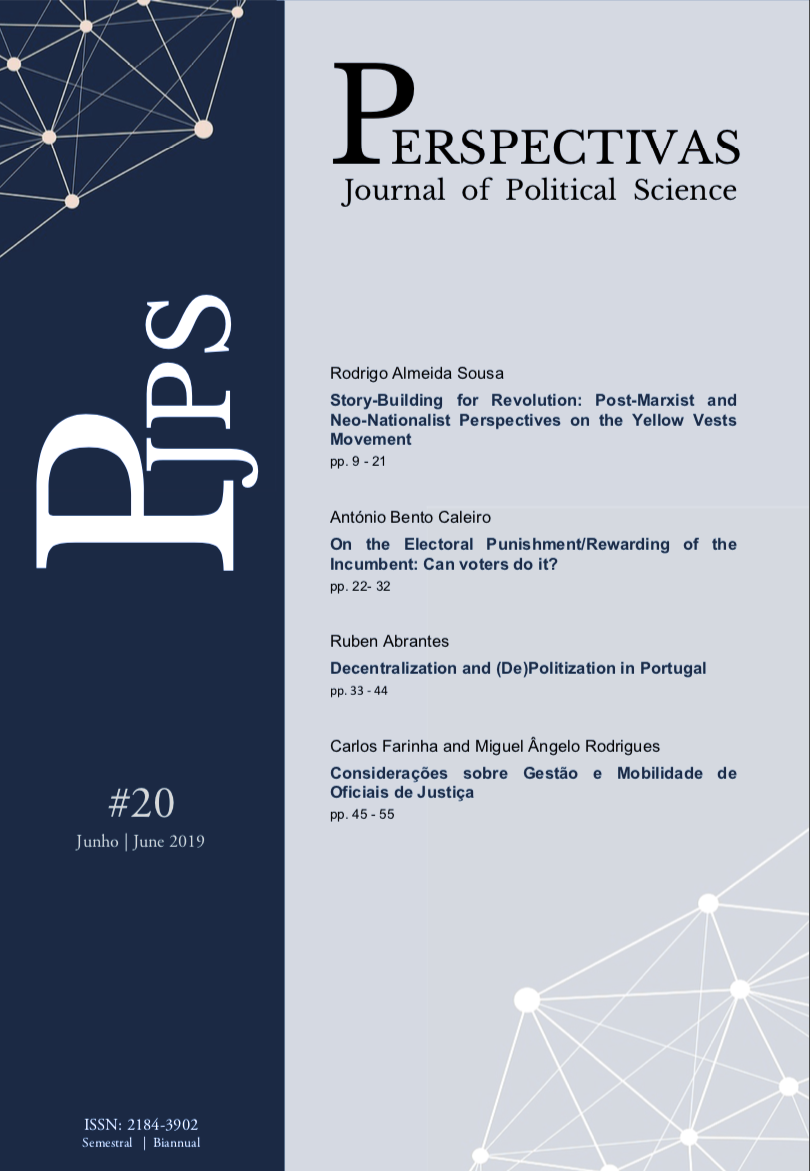 Downloads
How to Cite
Farinha, C., & Rodrigues, M. (2019). Considerações sobre Gestão, Eficiência e Mobilidade de Oficiais de Justiça: Management and Mobility Considerations for Bailifs. Perspectivas - Journal of Political Science, 20, 45-55. https://doi.org/10.21814/perspectivas.403
License
Copyright (c) 2019 Perspectivas - Journal of Political Science
This work is licensed under a Creative Commons Attribution-NonCommercial 4.0 International License.
Authors must be sure that they have permission to reproduce copyright material, prior to submitting their articles to this Journal.
Authors must secure permission if they have permission to reproduce figures, tables, or any extract from the text of another source. This applies to direct reproduction as well as to any derivative reproduction.
In assigning copyright, authors retain their right to use their own material elsewhere, provided that the Journal is acknowledged as the original place of publication, and the Editorial Team is notified in writing in advance.
Further information on copyright policy please contact info@perspectivasjournal.com