On the Phenomenology of War and Peace: Studying the Ukrainian "Event"
Keywords:
War, Peace, Ukraine, Russia, Phenomenology, International relations
Abstract
The current studies of the event and the phenomenon of the war (and of the peace) reflect the ontological and –ensuing- temporal problems of the IR theorising, stemming from the IR field's purely intersubjective nature, from its lack of the anchor of self-standing objectivity in contrast to the positive and social sciences. As such, the theory-based studies in the field become genetic processes, altering the immediate, pre-theoretical, intersubjective givenness of the IR phenomena and events within their narratives, in accordance to their preceding constructs. Yet, the phenomenology, with the intervention of the phenomenological ontology where it relapses itself into theorising, offers notions and tools for a pre-theoretical access to and description of the intersubjective immediacy of them. In order to outline such a study,  this paper examines the event of the Ukrainian War and through it, the phenomena of the war and the peace. It attempts to describe its pre-theoretical, intersubjective immediacy in its synthetic unity in ontological and temporal terms. This attempt brings forth a descriptive and temporally progressive ground of givenness composed of the referentiality to the interstate intersubjectivity, to the "given" interactional forms of the involved actors, which form the synthetic unity of the event (the Ukrainian War and preceding/ upcoming state of Peace) and of the related phenomena (war and peace).    
Downloads
Download data is not yet available.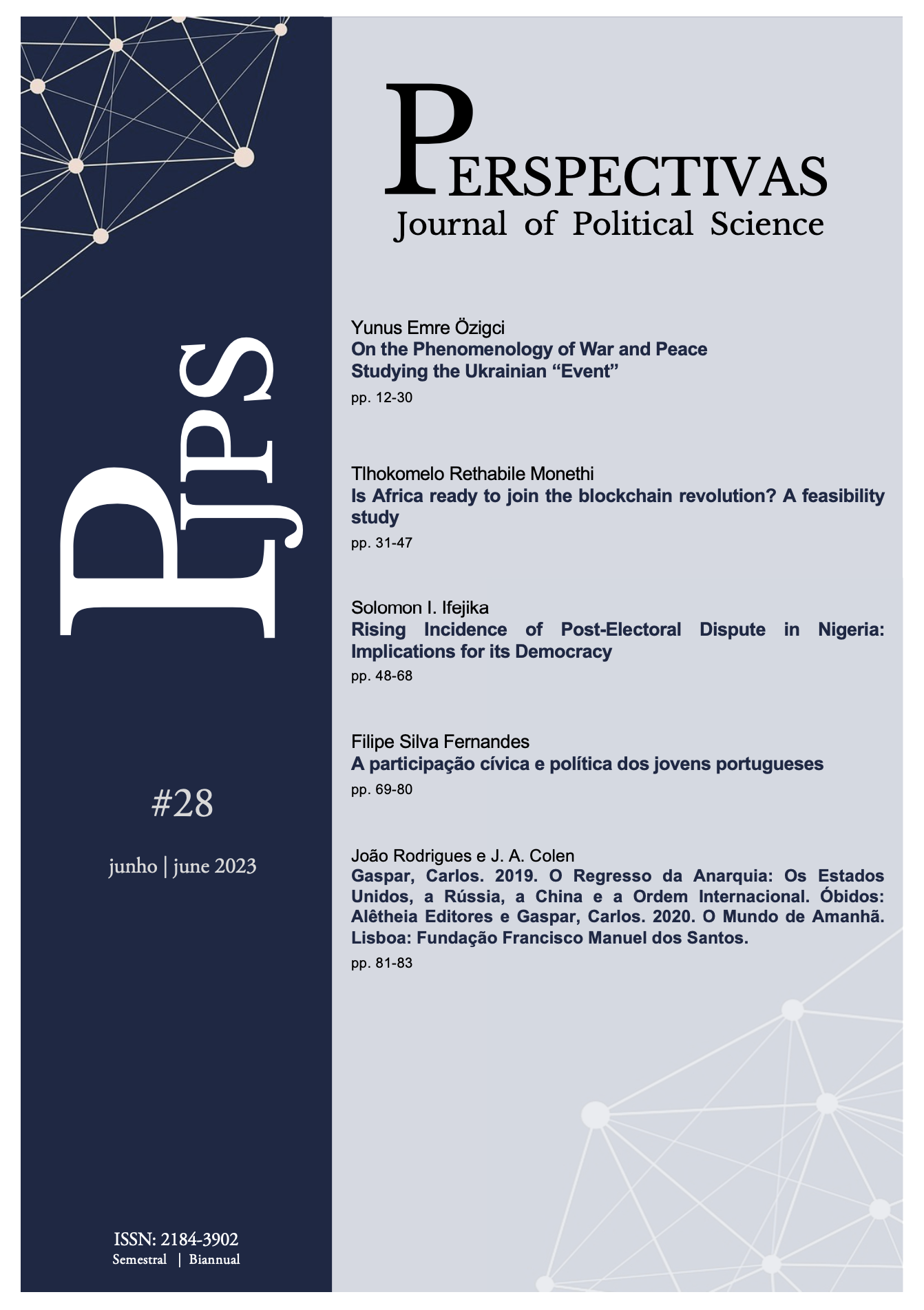 Downloads
How to Cite
Özigci, Y. E. . (2023). On the Phenomenology of War and Peace: Studying the Ukrainian "Event". Perspectivas - Journal of Political Science, 28, 12–30. https://doi.org/10.21814/perspectivas.5241
License
Copyright (c) 2023 Perspectivas - Journal of Political Science
This work is licensed under a Creative Commons Attribution-NonCommercial 4.0 International License.
Authors must be sure that they have permission to reproduce copyright material, prior to submitting their articles to this Journal.
Authors must secure permission if they have permission to reproduce figures, tables, or any extract from the text of another source. This applies to direct reproduction as well as to any derivative reproduction.
In assigning copyright, authors retain their right to use their own material elsewhere, provided that the Journal is acknowledged as the original place of publication, and the Editorial Team is notified in writing in advance.
Further information on copyright policy please contact info@perspectivasjournal.com