Democratization in Africa: The development condition revisited
Keywords:
Democratization, Africa, Democracy, Development condition
Abstract
In the middle of the twentieth century S.M. Lipset sustained that various indicators of economic development were higher in democratic countries than in authoritarian ones, suggesting that development was a condition to democracy. More recently, though, several authors have shown that there is no strong empirical evidence confirming development as a condition to democracy, suggesting in turn that the economic is not as important in democratization as it seemed in the 1950s. Despite this fact, there are some clues that indicate that economic factors do play an important role in democratization, but in a way different than that proposed by Lipset. In this article a revision of literature on some economic obstacles to democratization in Africa is carried out, its main conclusion being that underdevelopment decisively contributes to the difficulties many African countries experience in democratizing and consolidating democracy. One should not mistake underdevelopment with un-development though, the latter being the mere absence or delay in development and the former a specific supporting role given to developing countries within the global development process. The article's general conclusion, therefore, is that democratic development is not a question of getting richer, i.e. intensifying the development model, as much as of reforming this same model.
Resumo
Nos meados do século XX, S.M. Lipset afirma que vários indicadores de desenvolvimento económico são mais altos em países democráticos do que em países autoritários, sugerindo que o desenvolvimento é uma condição para a democracia. Mais recentemente, vários autores sustentam que não existem evidências empíricas que confirmem o desenvolvimento como condição para a democracia, sugerindo, por sua vez, que a economia não é tão importante na democratização como aparentava ser durante a década de 50. Apesar disso, existem algumas evidências que indicam que os fatores económicos desempenham um papel importante na democratização, mas de forma diferente da proposta por Lipset. Neste artigo é feita uma revisão da literatura sobre alguns obstáculos económicos à democratização na África, e a sua principal conclusão é que o subdesenvolvimento contribui decisivamente para as dificuldades que muitos países africanos enfrentam na democratização e consolidação da democracia. Não se deve confundir subdesenvolvimento com des-desenvolvimento, sendo este último a mera ausência ou atraso no desenvolvimento e o primeiro um papel de apoio específico dado aos países em vias desenvolvimento no processo de desenvolvimento global. A conclusão geral do artigo, portanto, é que o desenvolvimento democrático não é uma questão de enriquecimento, ou seja, de intensificar o modelo de desenvolvimento, mas de reformar esse mesmo modelo.
Downloads
Download data is not yet available.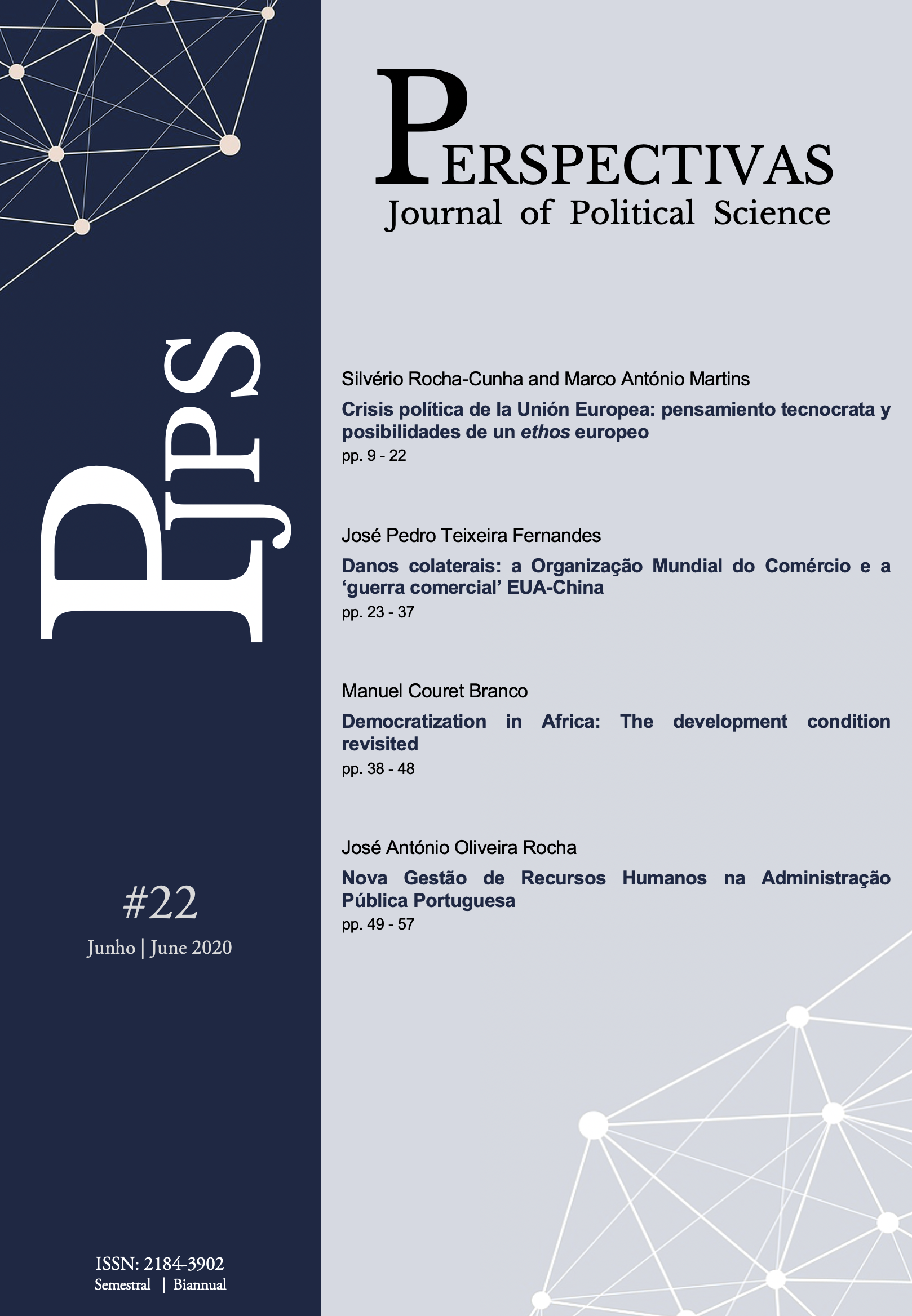 Downloads
How to Cite
Branco, M. C. (2020). Democratization in Africa: The development condition revisited. Perspectivas - Journal of Political Science, 22, 39-49. https://doi.org/10.21814/perspectivas.2506
License
Copyright (c) 2020 Perspectivas - Journal of Political Science
This work is licensed under a Creative Commons Attribution-NonCommercial 4.0 International License.
Authors must be sure that they have permission to reproduce copyright material, prior to submitting their articles to this Journal.
Authors must secure permission if they have permission to reproduce figures, tables, or any extract from the text of another source. This applies to direct reproduction as well as to any derivative reproduction.
In assigning copyright, authors retain their right to use their own material elsewhere, provided that the Journal is acknowledged as the original place of publication, and the Editorial Team is notified in writing in advance.
Further information on copyright policy please contact info@perspectivasjournal.com