Direitos Económicos: Um Desafio à Europa Social
Economic Rights: A Challenge to Social Europe
Keywords:
Direitos Económicos, Direito ao Trabalho, Direito à Segurança Social, Europa Social, União Europeia, Competitividade Económica
Abstract
Both the European Social Charter and the Charter of Fundamental Rights of the European Union include the so-called economic rights, such as the right to work or social security. Thus, economic rights are formally inscribed as objectives of the European Union and its member countries. For its part, the Lisbon strategy also enshrines the economic competitiveness of the European area as its objective. The purpose of this paper is to show how discourses of economic competitiveness, i.e. economics, and human rights can be contradictory. In fact, promoting economic competitiveness following the traditional economic logic results in most chaos in an erosion of established economic rights, such as the Right to Work and the Right to Social Security.
Resumo
Tanto a Carta Social Europeia como a Carta dos Direitos Fundamentais da União Europeia contemplam os chamados direitos económicos, tais como o direito ao trabalho, ou à segurasça social. Sendo assim os direitos económicos estão formalmente inscritos enquanto objectivos da União Europeia e dos países que a integram. Por seu turno, a estratégia de Lisboa consagra também a competitividade económica do espaço europeu como objectivo. O propósito desta comunicação consiste em mostrar como os discursos da competitividade económica, ou seja da economia, e dos direitos humanos podem ser contraditórios. Com efeito promover a competitividade económica seguindo a lógica económica tradicional resulta na maior parte dos caos numa erosão dos direitos económicos consagrados dando como exemplos o Direito ao Trabalho e o Direito à Segurança Social.
Downloads
Download data is not yet available.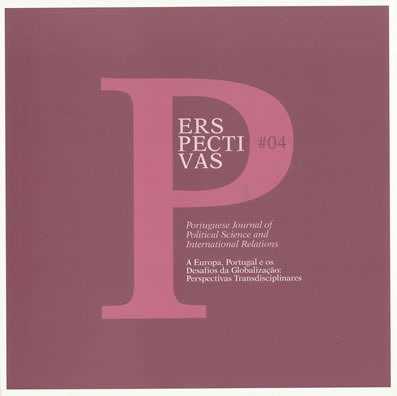 Downloads
How to Cite
Branco, M. C. (2010). Direitos Económicos: Um Desafio à Europa Social: Economic Rights: A Challenge to Social Europe. Perspectivas - Journal of Political Science, 4, 7-35. https://doi.org/10.21814/perspectivas.9
License
Authors must be sure that they have permission to reproduce copyright material, prior to submitting their articles to this Journal.
Authors must secure permission if they have permission to reproduce figures, tables, or any extract from the text of another source. This applies to direct reproduction as well as to any derivative reproduction.
In assigning copyright, authors retain their right to use their own material elsewhere, provided that the Journal is acknowledged as the original place of publication, and the Editorial Team is notified in writing in advance.
Further information on copyright policy please contact info@perspectivasjournal.com