The Cycle of Attention to Political Events: Racism and Police Violence in Portugal
Keywords:
Racism, Police violence, Cycle of attention to problems
Abstract
The author describes the Downs model (1972). Then he tests his propositions to explain the phenomenon of racism and police violence in the "Bairro da Jamaica"in the city of Setúbal; while drawing attention to the racist culture of the majority of the Portuguese population, which supports the abuse of force by the police. The event that took place on January 19 is the corollary of several events of the same type and can become a political fact of large and uncontrollable dimensions that threatens the stability of the Portuguese political system.
Downloads
Download data is not yet available.
References
Baumgartner, Frank, Bryan Jones, and Beth Leech. 1997. Media Attention and Congressional Agendas. In Do the Me- dia Govern? Politicians, Voters, and Reporters in America, Ed. Shanto Iyengar and Richard Reeves. Thousand Oakes, CA: Sage.
Benton, Marc, and P. Jean Frazier. 1976. The Agenda Setting Formation of the Mass Media at Three Levels of Information Holding. Communication Research 3(3), 261- 274.
Bernstein, Paul. 2003. The Impact of Public Opinion on Public Policy: A Review and an Agenda. Political Research Quarterly 56(1), 29-40.
Cabecinhas, Rosa, e Isabel Macedo. 2019. (Anti)racismo, Ciência e Educação: Teorias, Políticas e Práticas. Medi@ções 7(2), 16-36.
Cobb, Roger, and Charles D. Elder. 1983. Participation in American Politics: The Dynamics of Agenda-Building. Baltimore: The Johns Hopkins University Press.
Cronin, Thomas. 1988. Opinion and Direct Democracy. Political Science & Politics 21(3), 612-619.
Cunha, Isabel. 2003. A Imigração e as Minorias na imprensa e na televisão. Universidade de Coimbra. http://www.bocc.ubi.pt/pag/cunha-isabel-ferin-imigracao.pdf (Accessed November 2020).
Downs, Anthony. 1972. Up and Down with Ecology - The Issue Attention Cycle. Public Interest 28, 38-50.
Duarte, Sara. 2019. Repensar a Nostalgia Colonial Portu- guesa e os seus Silêncios: Um Contributo da Arte Contem- porânea para a Descolonização do Pensamento. Universi- dade Nova, FCSH: Dissertação de Mestrado em História da arte Contemporânea.
Gupta, Kuhika, and Hank Jenkins-Smith. 2015. Anthony Downs, "Up and Down with Ecology: The 'Issue-Attention' Cycle". In The Oxford Handbook of Classics in Public Policy and Administration, edited by Martin Lodge, Edward C. Page, and Steven J. Balla. Oxford: Oxford University Press.
Henriques, Joana G. 2017. Racismo em Portugal: O lado Esquecido do Colonialismo. Rio de janeiro: Tinta da China.
Hobolt, Sara, and Robert Klemmensen. 2005. Responsive Governance? Public Opinion and Government Policy. Pre- ferences in Britain and Dennmark. Political Studies 53, 379-403.
Hofferbert, Richard. 1974. The Study of Public Policy. New York: The Bobbs-Merril Company.
Howlett, M. 1997. Issue Attention and Punctuated Equilibria Models Reconsidered: An Empirical Examination of Dynamics of Agenda-Setting in Canada. Canadian Journal of Political Science 30(1), 3-29.
Maeso, Sílvia. 2019. O Estado de negação e o presente- futuro do antirracismo: Discursos oficiais sobre racismo, 'multirracialidade' e pobreza em Portugal (1985-2016). Revista Direito e Práxis 10(3), 2033-2067.
Martins, Bruno, e Adriano Moura. 2018. Portugal e Década Internacional de Afrodescendentes: a Educação e os Tempos da Violência Policial. Educação em Revista 34.
McCombs, Maxwell, and Jian-Hua Zhu. 1995. Capacity, Diversity, and Volatility of the Public Agenda: Trends from 1954 to 1994. The Public Opinion Quarterly 59(4), 495-525.
McCombs, Maxwell, and Donald L. Shaw. 1972. The Agenda-Setting Function of Mass Media. The Public Opi- nion Quarterly 36(2), 176-187.
McDonald, Susan. 2009. Changing Climate, Changing Minds: Applying the Literature on Media Effects, Public Opinion and the Issue-Attention Cycle to Increase Public Understanding of Climate Change. IJSC 4, 45-63.
Parsons, Wayne. 1995. Public Policy: An Introduction to the Theory and Practice of Policy Analysis. Aldershot, UK. Edward Elgar.
Petersen, Karen. 2009. Revisiting Downs Issue- Attention Cycle: International Terrorism and U.S. Public Opinion. Journal of Strategic Security 2(4), 1-16.
Kingdon, John. 1995. Agendas, Alternatives, and Public Policies. New York: Harper Collins.
Raposo, Otávio, Ana Rita Alves, Pedro Varela, e Cristina Roldão. 2019. Negro Drama. Racismo, Segregação e Vio- lência Policial nas Periferias de Lisboa. Revista Crítica de Ciências Sociais 119.
Riggs,FredW.1964.AdministrationinDevelopingCoun- tries: The Theory of Prismatic society. Boston: Houghton Mifflin.
Rocha, J. A. Oliveira, and Joaquim Filipe Araújo. 2007. Administrative Reform in Portugal: Problems and Prospects. International Review of Administrative Sciences 73(4), 583-596.
Rocha, J. A. Oliveira. 2020. Opinião Pública e Políticas Públicas. Revista de Ciência Política (Em processo de pu- blicação).
Soroka, Stuart, Stephen Farnsworth, Andrea Lawlor, and Lori Young. 2012. Mass Media and Policy-Making. In Rou- tledge Handbook of Public Policy, edited by Eduardo Araral, Scott Fritzen, Michael Howlett, M. Ramesh and Xun Wu. Routledge Handbooks.
Teles, Beatriz Nascimento. 2020. Violência Policial e De- bate no Twitter em Portugal: O Caso do Bairro da Jamaica. Intercom - Revista Brasileira de Ciências da Comunicação. 43(1), 147-164.
Turnbull, Nick. 2006. How Should We Theorise Public Policy? Problem Solving and Problematicity. Policy and Society 25(2), 3-22.
Wilkins, Lee, and Philip Patterson. 1991. Science as a Symbol: The Media Chills the greenhouse Effect. In Risky Business: Communicating Issues of Science, Risk, and Public Policy. Westport, CT: Greenwood Press, 159-176.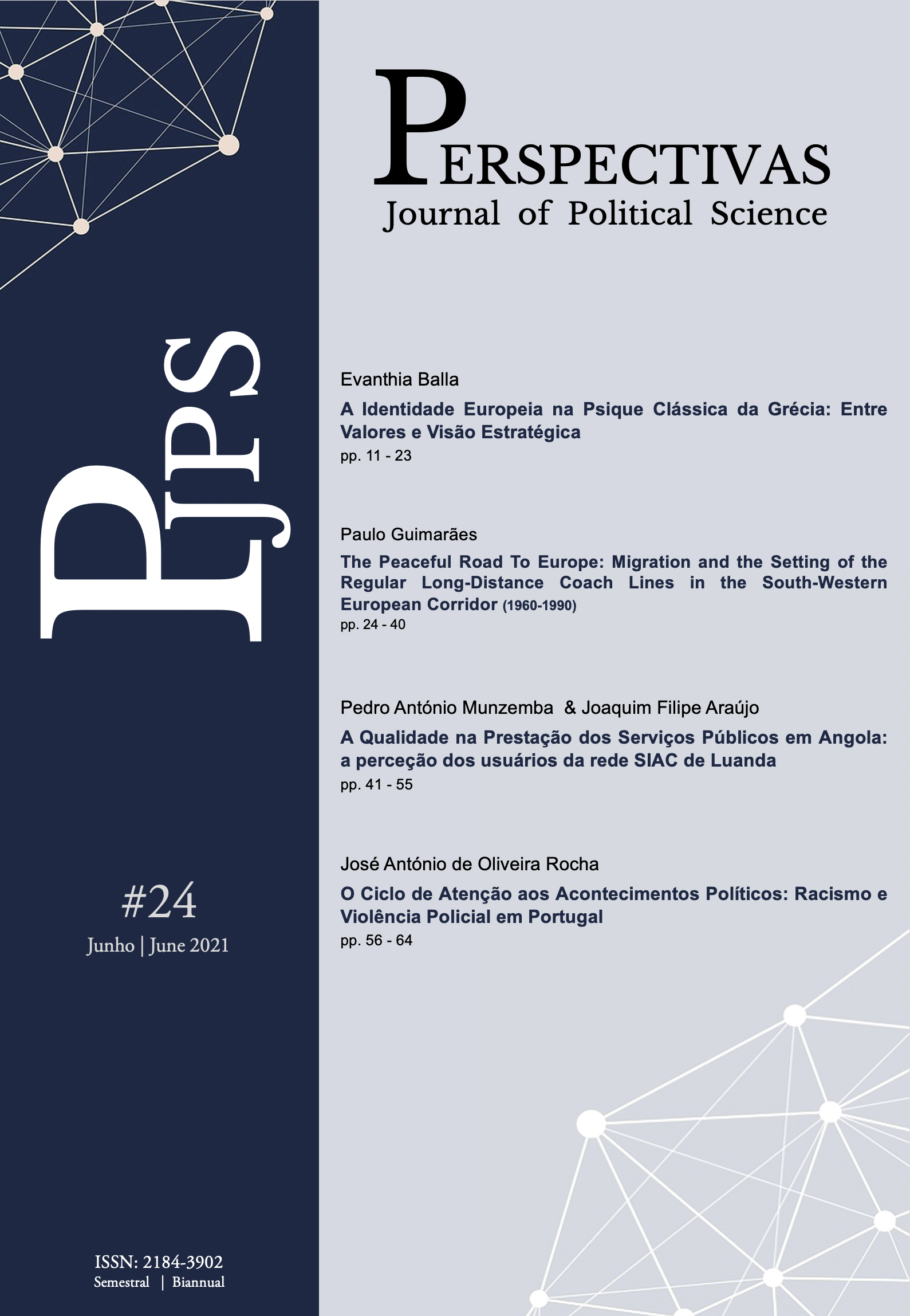 Downloads
How to Cite
Oliveira Rocha, J. A. (2021). The Cycle of Attention to Political Events: Racism and Police Violence in Portugal. Perspectivas - Journal of Political Science, 24, 56-64. https://doi.org/10.21814/perspectivas.3137
License
Copyright (c) 2021 Perspectivas - Journal of Political Science
This work is licensed under a Creative Commons Attribution-NonCommercial 4.0 International License.
Authors must be sure that they have permission to reproduce copyright material, prior to submitting their articles to this Journal.
Authors must secure permission if they have permission to reproduce figures, tables, or any extract from the text of another source. This applies to direct reproduction as well as to any derivative reproduction.
In assigning copyright, authors retain their right to use their own material elsewhere, provided that the Journal is acknowledged as the original place of publication, and the Editorial Team is notified in writing in advance.
Further information on copyright policy please contact info@perspectivasjournal.com