Nova Gestão de Recursos Humanos na Administração Pública Portuguesa
Keywords:
Gestão de Recursos Humanos, Administração Pública, Portugal
Abstract
Human Resource Management has changed according to the type of State and the model of public management. After a classic period, in which, in truth, there was no management, the New Public Management (NPM) was adopted, which, in terms of human resources, tends to bring public management closer to business management. Efficiency constitutes the maximum value to be pursued, having adopted methods and techniques of business management, such as performance evaluation based on objectives, individual employment contract, outsourcing and financial autonomy. With the 2007/2008 crisis, the State centralized the management of human resources. The objective was now to control public expenditure, with public services responsible for a large part of this expenditure. The same happened in Portugal, having become more sophisticated in the last two years.
Resumo
A Gestão de Recursos Humanos mudou conforme o tipo de Estado e o modelo de gestão pública. Depois de um período clássico, em que, em boa verdade, não havia gestão, foi adotada a Nova Gestão Pública (NPM), que, em termos de recursos humanos, tende a aproximar a gestão pública da gestão empresarial. A eficiência constitui o valor máximo a prosseguir, tendo-se adotado métodos e técnicas de gestão empresarial, como a avaliação de desempenho com base em objetivos, o contrato individual de trabalho, a terceirização e a autonomia financeira. Com a crise de 2007/2008, o Estado centralizou a gestão de recursos humanos. O objetivo era agora controlar a despesa pública, sendo que os serviços públicos eram responsáveis por grande parte dessa despesa. Aconteceu o mesmo em Portugal, tendo vindo a sofisticar-se nos últimos dois anos com a reforma da função pública que se traduz no recrutamento centralizado dos funcionários e na criação de uma espécie de "senior civil service". Estas reformas foram definidas em vários instrumentos normativos que começaram a ser implementados no início deste ano, pelo que ainda é cedo para avaliar o seu impacto.
Downloads
Download data is not yet available.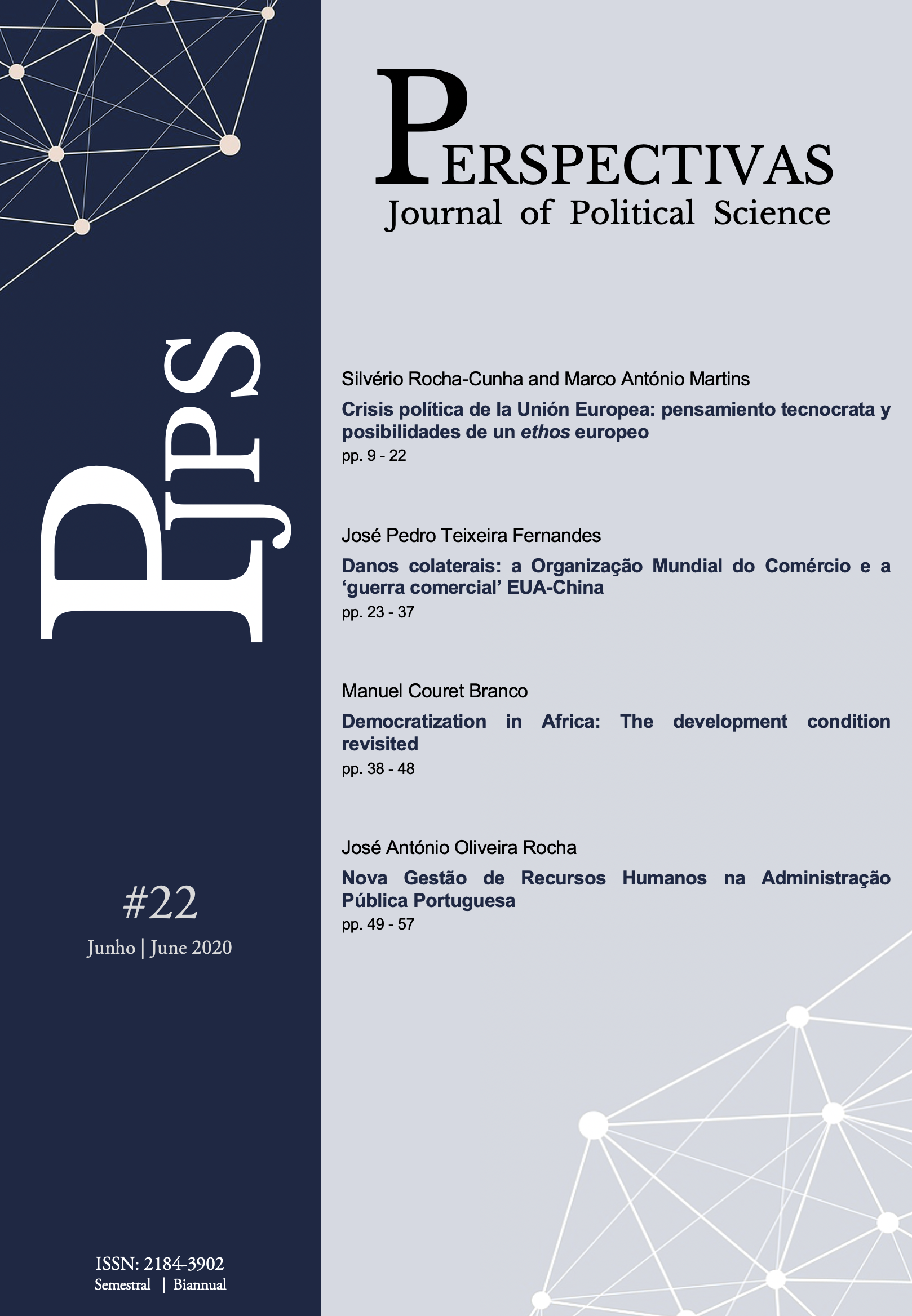 Downloads
How to Cite
Oliveira Rocha, J. A. (2020). Nova Gestão de Recursos Humanos na Administração Pública Portuguesa. Perspectivas - Journal of Political Science, 22, 50-58. https://doi.org/10.21814/perspectivas.2675
License
Copyright (c) 2020 Perspectivas - Journal of Political Science
This work is licensed under a Creative Commons Attribution-NonCommercial 4.0 International License.
Authors must be sure that they have permission to reproduce copyright material, prior to submitting their articles to this Journal.
Authors must secure permission if they have permission to reproduce figures, tables, or any extract from the text of another source. This applies to direct reproduction as well as to any derivative reproduction.
In assigning copyright, authors retain their right to use their own material elsewhere, provided that the Journal is acknowledged as the original place of publication, and the Editorial Team is notified in writing in advance.
Further information on copyright policy please contact info@perspectivasjournal.com