Italian fascist modernisation and colonial landscape in Albania 1925-1943
Keywords:
Albania, Fascism, landscape, reclamation, colonialism, Italy, Società Littorio
Abstract
Environmental history and landscape transformations vis-à-vis agricultural modernization policies such as the reclaiming of land hardly features in studies on the Italian fascist annexation of Albania. This paper focuses on the main features of Italian economic and landscape efforts in Albania during the fascist years through a general overview of the Italian period with respect to economic and land reclamation works, and an exploration of Italys colonial policies in the modernization and regeneration of Albanian landscape. Its scope includes Italys interwar interventionist efforts in Albania in economy and land reclamation, but not the substantial literature on Italian contribution to the transformation of Albanian urban landscapes during the interwar period. The urban planning of Albania by Italian architects, engineers, and urbanists that developed from 1920 to 1939 has been dealt with extensively in scholarship regarding Albania.
Downloads
Download data is not yet available.
References
Archives in Tirana
Arkivi Qëndror Shtetëror/Central State Archive (AQSH)
Fondi 161, 195, 252, 462.
Arkivi i Ministrisë së Punëve të Jashtme V. 1936.
Newspapers
Ekonomia Kombëtare 1940
Other sources:
Ambrosini, Gaspare. 1940. "L'Albania nella Communità Imperiale di Roma". Quaderni dell Instituto Nazionale di Cultura Fascista No. 5. Roma.
Amendola, Antonio. 1939. Assimilazione economica dell'Albania. Edizioni Porti d'Italia: Napoli.
Annuario del Regno di Albania 1940. Milano: Casa Editrice Ravagnati.
Bego, Fabio. 2017. "The Vlora conflict from a Trans-Adriatic Perspective: History, Myth and Ideology". In, Lichnofsky, Claudia; Pandelejmoni, Enriketa; Stojanov, Darko (eds.) Myths and Mythical Space. Conditions and Challenges for History Textbooks in Albana and South- Eastern Europe. Eckert. Die Schriftreihe Vol. 147. Gottingen: V&R Unipress.
Ben-Ghiat, Ruth. 2006. "Modernity is just over there". In, Interventions: International Journal of Postcolonial Studies, 8:3, pp. 380-393.
Berend, T. Ivan. 2006. An Economic History of Twentieth-Century Europe. Cambridge: Cambridge University Press.
Bosworth Richard J. B. 1975. "The Albanian Forests of Signor Giacomo Vismara: A Case Study of Italian Economic Imperialism During the Foreign Ministry of Antonino di San Giuliano". The Historical Journal, 18, pp 571-586.
Caccamo, Francesco. 2012. "Italy, the Adriatic and the Balkans: From the Great War to the Eve of the Peace Conference" In, Wilcox, Vanda, Italy in the Era of the Great War. Leiden, Boston: Brill.
Ciano, Galeazzo. 2006. Diario 1937-1943. Decima edizione. Roma: Rizzoli.
Dëzhgiu Muharrem. 2005. Shqipëria nën pushtimin Italian (1939-1943). Tiranë: Akademia e Shkencave e Shqipërisë. Instituti i Historisë.
Duka, Valentina. 2007, Histori e Shqipërisë 1912-2000. Tiranë: Kristalina.
Fischer Bernd. 1984. King Zog and the Struggle for Stability in Albania. New York: Columbia University Press.
Fishta, Iljaz. 1971. Sistemi monetar dhe i kreditit në Shqipëri (1924-1944). Tiranë: Mihal Duri. Godoli, Ezio. 2012. "Progetti per la SVEA (società per Lo Sviluppo Economico dell'Albania): documenti dagli archivi di Luigi Luiggi e Guido Fiorini". In Godoli, Ezio; Tramonti Ulisse (eds.) Architetti e ingegneri italiani in Albania. Edifir: Firenze. pp. 55-64.
Gurakuqi Romeo. 2018. Shqipëria dhe tokat e lirueme 1939-1946. Tiranë: Botimet Jozef Lampe, John R. and Jackson, Marvin R., Balkan Economic History, 1550–1950: From Imperial Borderlands to Developing Nations, Bloomington, Indiana University Press, 1982 Menghini, Anna Bruna. 2013. "La presenza italiana attraverso gli istituti e gli enti per le opera pubbliche". In, Calace, Francesca. "Restituiamo la storia". Dagli archivi ai territori. Architettura e modelli urbani nel Mediterraneo orientale. Roma: Gangemi Editore. pp. 42-55.
Della Rocca, Morozzo. 2001. "Roma e Tirana, le convergenze parallele". LIMES, 2, pp. 213- 226.
Mëhilli, Elidor. 2017. From Mao to Stalin. Albania and the Socialist World. London: Cornell University Press.
Milo Paskal. 2014. Shqiptarët në Luftën e Dytë Botërore. Vol. 1. Tiranë: Toena. Papa-Pandelejmoni, Enriketa. 2014. "Albania during WWII: Mustafa Merlika Kruja's Fascist Collaboration", The European Legacy, 19:4, 433-441.
Papa-Pandelejmoni, Enriketa. 2017. Il rimpatrio degli italiani e lo stallo nelle relazioni Albania-Italia (1945-1957). In, Paolo Rago (ed.) Una pace necessaria. I rapporti italiano- albanesi nella prima fase della guerra fredda. Bari: Editori Laterza, 127-172.
Pearson Owen. 2004. Albania and King Zog: Independence, Republic and Monarchy, 1908- 1939. London: IB Tauris.
Podesta, Gian Luca. 2011. "Colonists and "Demographic" Colonists. Family and Society in Italian Africa". Annales de démographie historique. Vol. 122, Issue 2. pp. 205-231.
Podestà, Gian Luca. 2012. "I censimenti nei domini coloniali come fonte per la storia sociale". In, Alfani, Guido et al. 2012 (eds.) I censimenti nell'Italia unita. Le fonti di stato della popolazione tra il XIX e il XXI secolo. In, Annali di statistika, Anno 142, Serie XII - Vol. 2. Roma: Istituto nazionale di statistica. pp. 253-274.
Pula, Besnik. 2008. "Becoming Citizens of Empire: Albanian Nationalism and Fascist Empire, 1939-1943". Theory and Society, 8, Vol. 37, No. 6 , pp. 567-596.
Rodogno, Davide. 2005. "Progetti e finalità delle politiche fasciste d'occupazione', Contemporanea, Vol. 8, No. 2, pp. 317-323.
Rodogno, Davide. 2006. Fascism's European Empire: Italian Occupation during the Second World War. Cambridge: Cambridge University Press.
Pastorelli, Pietro. 1966. "La penetrazione italiana in Albania. Gli accordi economici italo- albanesi del marzo 1925". Rivista di Studi Politici Internazionali, Vol. 33. No. 1. pp. 8-60.
Roselli Alessandro. 2006. Italy and Albania: Financial Relations in the Fascist Period. London- New York: I.B.Tauris.
Ruth Ben-Ghiat and Mia Fuller (ed). 2005. Italian Colonialism. New York: Palgrave Macmillan.
Santoianni Vittorio. 2008. "Il Razionalismo nelle colonie italiane 1928-1943. La "nuova architettura" delle Terre d'Oltremare" (Ph.D. Thesis, Universita degli Studi di Napoli "Federico II".
Sakja, Rovena. 2016. "Così vicina, così lontana: visioni fasciste dello sviluppo dell'Albania negli anni quaranta". Nuovi annali della scuola speciale per archivisti e bibliotecari. Firenze; Leo S. Olschki Editore. pp. 169-190.
Straneo, Carlo Alberto. 1940. "L'Albania nel Impero", Nr. 01 - RIVISTA D'ALBANIA (No. 1), pp. 5-9.
Tomes Jason. 2003. King Zig self-made Monarch of Albania. Stroud: Sutton Publishing. Trani Silvia. 2007. L'Unione fra l'Albania e l'Italia. Censimento delle fonti (1939-1945) conservate negli archivi pubblici e privati di Roma. Roma.
Vickers, Miranda. 2001. The Albanians, A Modern History. London, New York: I.B. Tauris Publshers.
Villari, Giovanni. 2007. "A Failed Experiment: The Exportation of Fascism to Albania", Modern Italy, Vo1. 2, No. 2, 157-171.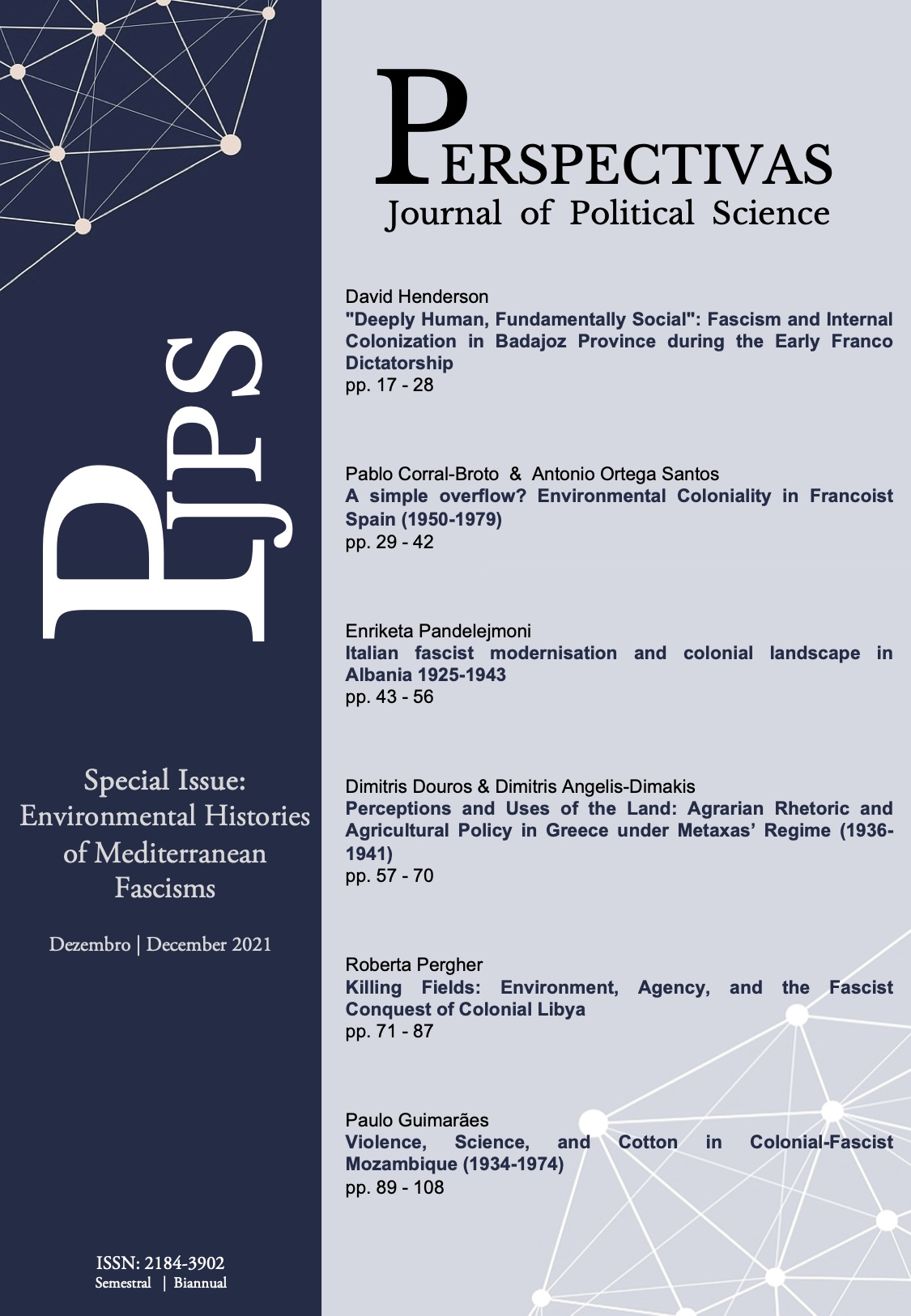 Downloads
How to Cite
Pandelejmoni, E. (2021). Italian fascist modernisation and colonial landscape in Albania 1925-1943. Perspectivas - Journal of Political Science, 25, 43-56. https://doi.org/10.21814/perspectivas.3243
License
Copyright (c) 2021 Perspectivas - Journal of Political Science
This work is licensed under a Creative Commons Attribution-NonCommercial 4.0 International License.
Authors must be sure that they have permission to reproduce copyright material, prior to submitting their articles to this Journal.
Authors must secure permission if they have permission to reproduce figures, tables, or any extract from the text of another source. This applies to direct reproduction as well as to any derivative reproduction.
In assigning copyright, authors retain their right to use their own material elsewhere, provided that the Journal is acknowledged as the original place of publication, and the Editorial Team is notified in writing in advance.
Further information on copyright policy please contact info@perspectivasjournal.com