The Peaceful Road to Europe: Migration and the Setting of the Regular Long-Distance Coach Lines in the South-Western European Corridor (1960-1990)
Keywords:
European Societies, European Long Distance Transport Networks, 20th century Portugal
Abstract
The establishment of the regular long-distance coach lines across Europe, boosted by migration flows, is the object of this historical study focused on the Portuguese experience. The article considers four dimensions: the establishment of the regular long-distance international coach lines through the coordination of the transport modes; the legal setting and the multi-national administration; the migrants coach travel experience and, finally, the evolutionary trends of this service. The narrative was mostly based on the Portuguese transport administration archives and specialized technical literature. From rural to urban contexts, from advanced to less advanced societies in Europe, we describe the process of common societal changes induced by the European experience. This explores the construction of Europe as a collective, historical and everyday experience, and analyses the ways common institutions, personal trust, and even friendship across governments, officials, and individuals were built anticipating the formal political process of creation of the European Community.
Downloads
Download data is not yet available.
References
Babiano, José and Rodríguez Farré. 2002. "La emigracion española a Europa durante los años sessenta: Francia y Suiza como países de acogida". Historia Social, (42): 81-97.
Bade, KlausJ. 2002. L'Europeen Mouvement: la migration de la fin du XVIIIe siècle à nos jours. Paris: Éditions du Seuil.
Baganha, M. I. 2003. "From Closed to Open Doors: Portu- guese Emigration under the Corporatist Regime". e-Journal of Portuguese History I, (1) 2003: 1-16.
Braga, Miguel Sequeira et al. 1969. Anteprojecto de Re- gulamentação dos Transportes Internacionais Rodoviários. Lisboa: GEPMT.
Castles, S. 1986. "The Guest-Worker in Western Europe - An Obituary". International Migration Review, 20(4): 761- 778.
CEMT. Conference Europeenne des Ministres des Trans- ports. 1966. "Regulation 117/66/CEE approved by the Council at September, 28th 1965 regarding the introduc- tion of common rules for the road passenger transport by coaches". Journal Officiel du Conseil, July 28th, 1966.
CEMT. 1979. Rapport de la Quarente-Quatrième Table Ronde d' Economie des Transports, 59. Paris: CEMT.
CEMT. Centre de Recherches Économiques. 1988. Rapport de la Soixante-Douzième Table Ronde d' 'Economie des Transports tenú à Paris les 26 et 27 mars 1987 sur le thême: Le Transport International par Autocar. Paris: CEMT.
Groenendijk, P. 1983. «L'Avenir du Transport Routier: Compromis par les Obstacles aux Frontiers. Union Interna- tionale des Transport Routiers», XIXe Congres de L' IRU, Venice.
Lobato, Luís Guimarães. 2005. A Concepção da Rede Fer- roviária no Sistema Global de Transportes: o Gabinete de Estudos e Planeamento de Transportes Terrestres. Lisboa: DGTTF; CP.
Marques, J. C. 2009. "«E continuam a partir»: as migrações portuguesas contemporâneas". Ler História, (56): 27- 44.
Mavropolos, M., and Jean Louis-Larronde. 2008. «J'aime tous dans ce metier». Autocar & Bus infos.
Mendoza, Cristobal. 2009. Inmigracion laboral africana en la Peninsula Iberica. Mexico, D.F., Universidad Autónoma Metropolitana Unidad Iztapalapa.
Messina, A. M. 2002. West European Immigration and Immigrant Policy in the New Century. Westport: CT.
Moch, Leslie P. 2003. Moving Europeans: Migration in Western Europe since 1650. Bloomington & Indianapolis: Indiana University Press.
Negre, Javier G. 2009. "O pesadelo do autocarro Madrid- Bucareste". El Mundo, Madrid, 21 August 2009. Available at http://www.presseurop.eu/pt/content/article/81931- o-pesadelo-do-autocarro-madrid-bucareste (last access 8/02/2011).
Pérez Dias, A. and G. Barrientos Alfageme, eds. 2005.
Emigrantes Retornados e Inmigrantes: Extremadura ante el Siglo XXI. Badajoz: Diputación Provincial.
Pereira, V. 2009. "Ineficiência, fragilização e duplicidade: o velho Estado Novo perante a emigração para França (1960-
". Ler História, (56): 45-68.
Portugal. Instituto da Mobilidade e dos Transportes Terrestres (IMTT) Archive / Conselho Superior dos Transportes CSTT. 1952 - Proceeding 112. Book 4, f. 171.
Portugal, Ministério dos Transportes e Comunicações (MTC). GEPT, 1967. Relatório de Actividades, 1961-1966. Lisboa.
Portugal, MTC. 1969. Gabinete de Estudos e Planeamento: Repport 28/69. Lisbon, GEPT. Mimeographed.
Portugal, MTC. GEP. 1987. Informação complementar ao Relatório 'Portugal: Contributos para o Estudo do Corredor Sudoeste da Europa'. Lisboa. (Copygraph).
RN. Rodoviária Nacional. 1985. Relatórios e Contas de 1984. Lisboa.
Salt, John and Hugh Clout eds. 1976. Migration in Post- War Europe: Geographical Essays. Oxford: University Press. Schipper,Frank.2008.DrivingEurope:BuildingEuropeon Roads in the Twentieth Century. Amesterdam: Aksant.
Tapia, S. 1996. "Échanges, transports et communications: circulation et champs migratoires turcs". REMI, 12(2): 45-71.
Triadafilopoulos, T. S. and Karen Schonwalder. 2007. "How the Federal Republic Became an Immigration Coun- try: Norms, Politics and the Failure of West Germany's Guest Worker System". German Politics and Society, 24(3).
Villanova,Roselyne.2006/7."DoubleResidence":ASpace for Intergenerational Relations. Portuguese Immigrants in France in the Twentieth and Twenty-First Centuries. Portuguese Studies Review, 14(2): 241-261.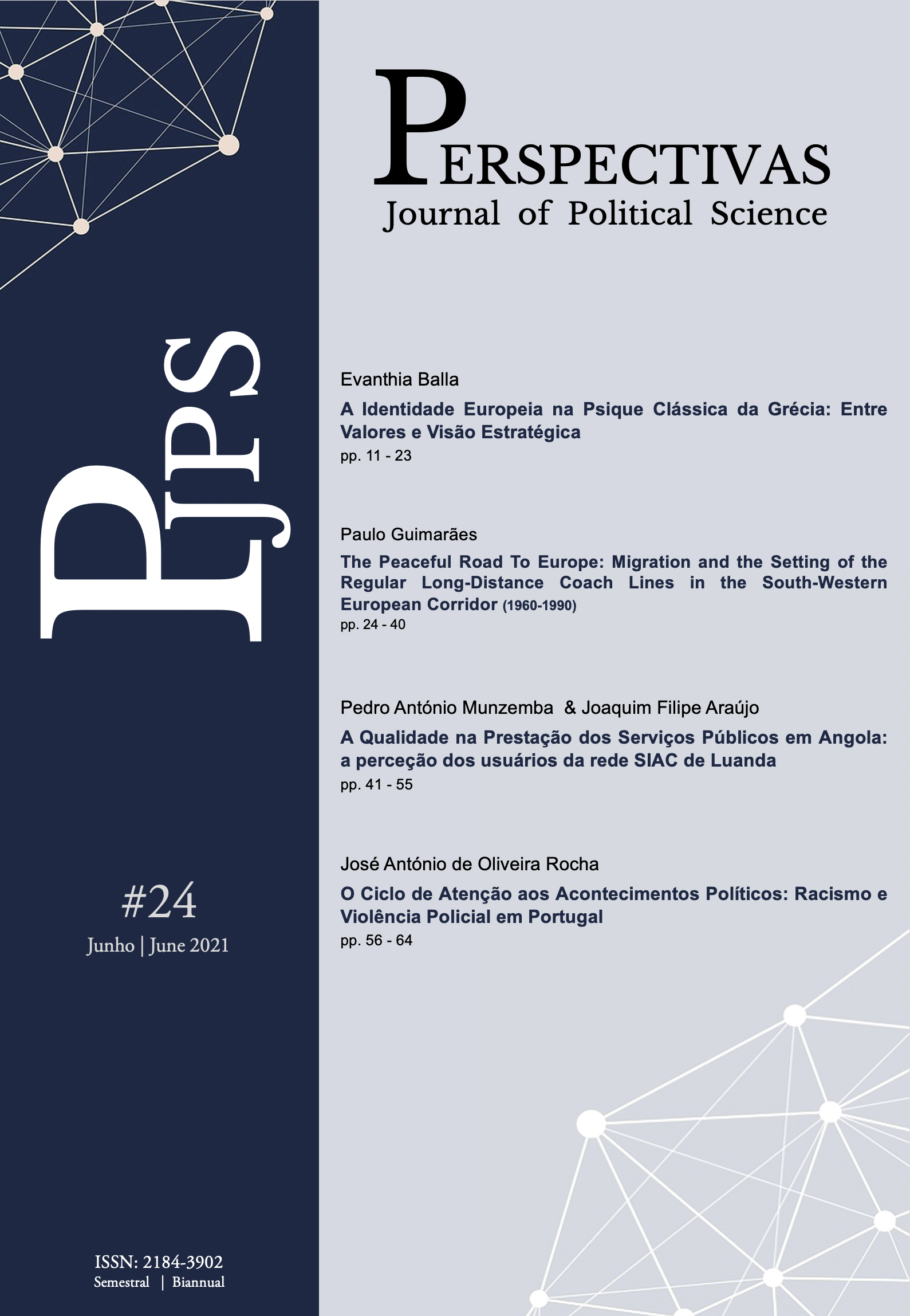 Downloads
How to Cite
Guimarães, P. (2021). The Peaceful Road to Europe: Migration and the Setting of the Regular Long-Distance Coach Lines in the South-Western European Corridor (1960-1990). Perspectivas - Journal of Political Science, 24, 24-40. https://doi.org/10.21814/perspectivas.3108
License
Copyright (c) 2021 Perspectivas - Journal of Political Science
This work is licensed under a Creative Commons Attribution-NonCommercial 4.0 International License.
Authors must be sure that they have permission to reproduce copyright material, prior to submitting their articles to this Journal.
Authors must secure permission if they have permission to reproduce figures, tables, or any extract from the text of another source. This applies to direct reproduction as well as to any derivative reproduction.
In assigning copyright, authors retain their right to use their own material elsewhere, provided that the Journal is acknowledged as the original place of publication, and the Editorial Team is notified in writing in advance.
Further information on copyright policy please contact info@perspectivasjournal.com