A inspeção de navios de pesca em águas internacionais: Elementos de Direito da União Europeia e de Direito Internacional do Mar
Inspection of fishing vessels in international waters: Elements of European Union Law and International Sea Law
Keywords:
United Nations Convention on Sea Law, International Waters, European Unios, Conservation and Management of Marine Living Resources, Fishing Activity Control, Fishing Vessel Inspection
Abstract
This text describes and analyzes elements deemed relevant in the framework of the inspection activity of fishing vessels in international waters. This analysis shall be carried out within the framework of the provisions applicable to fishing vessels registered in the European Union as laid down in the basic regulation of the Common Fisheries Policy and the related instrument on control of fishing activities and implementing rules, with reference to the legitimacy aspects of the procedure. The analysis also focuses on the rules contained in the United Nations Convention on the Sea Law regarding the inspection of ships in waters beyond the limits of national jurisdiction, as well as on important multilateral agreements adopted in this area (the Agreement for the Promotion of compliance with international conservation and management measures  fishing vessels on the high seas and the New York Agreement on the application of the provisions of the Convention on the conservation and management of straddling fish stocks and migratory fish stocks). In this context, the powers of inspection deriving from the responsibility of the flag State and the follow-up to the inspection by national measures, including the enforcement of the sanctioning power, are examined. Some considerations are unlawfully made about the inspection systems adopted by certain organizations, to which the European Union is a Contracting Party, which have as their objective in the fisheries sector the conservation and management of marine living resources that evolve in international waters.
Resumo
O presente texto procede à descrição e à análise de elementos considerados relevantes no âmbito da atividade de inspeção de navios de pesca em águas internacionais. Esta análise é efetuada no âmbito das disposições aplicáveis aos navios de pesca registados na União Europeia vertidas no regulamento de base da Política Comum de Pescas e no instrumento conexo sobre o controlo das atividades de pesca e respetivas normas de execução, com referência aos aspetos da legitimidade do procedimento. A análise incide igualmente sobre as normas contidas na Convenção das Nações Unidas sobre o Direito do Mar em matéria de inspeção de navios em águas situadas para além dos limites da jurisdição nacional, bem como em importantes acordos multilaterais adotados neste âmbito (o Acordo para a promoção do cumprimento das medidas internacionais de conservação e de gestão pelos navios de pesca no alto mar e o Acordo de Nova Iorque relativo à aplicação das disposições da Convenção respeitantes à conservação e gestão das populações de peixes transzonais e das populações de peixes altamento migradores). Neste contexto, são analisados os poderes de inspeção que decorrem da responsabilidade do Estado de pavilhão e o seguimento que deve ser dado à inspeção por meio de medidas nacionais, nomeadamente em termos de aplicação do poder sancionatório. São feitas ilgualmente algumas considerações sobre os sistemas de inspeção adotados por determinadas organizações, de que a União Europeia é Parte Contratante, que têm como objetivo, no setor da pesca, a conservação e a gestão de recursos vivos marinhos que evoluem em águas internacionais.
Downloads
Download data is not yet available.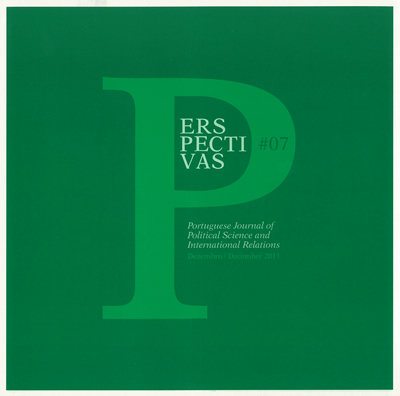 Downloads
How to Cite
Cardoso, F. C. (2011). A inspeção de navios de pesca em águas internacionais: Elementos de Direito da União Europeia e de Direito Internacional do Mar: Inspection of fishing vessels in international waters: Elements of European Union Law and International Sea Law. Perspectivas - Journal of Political Science, 7, 47-58. Retrieved from https://www.perspectivasjournal.com/index.php/perspectivas/article/view/435
License
Authors must be sure that they have permission to reproduce copyright material, prior to submitting their articles to this Journal.
Authors must secure permission if they have permission to reproduce figures, tables, or any extract from the text of another source. This applies to direct reproduction as well as to any derivative reproduction.
In assigning copyright, authors retain their right to use their own material elsewhere, provided that the Journal is acknowledged as the original place of publication, and the Editorial Team is notified in writing in advance.
Further information on copyright policy please contact info@perspectivasjournal.com